Oct
29
2019
Breaking Taboos: Creating Safe(r) Spaces for Healthy Relationships
October 29, 2019
4:30 PM - 6:30 PM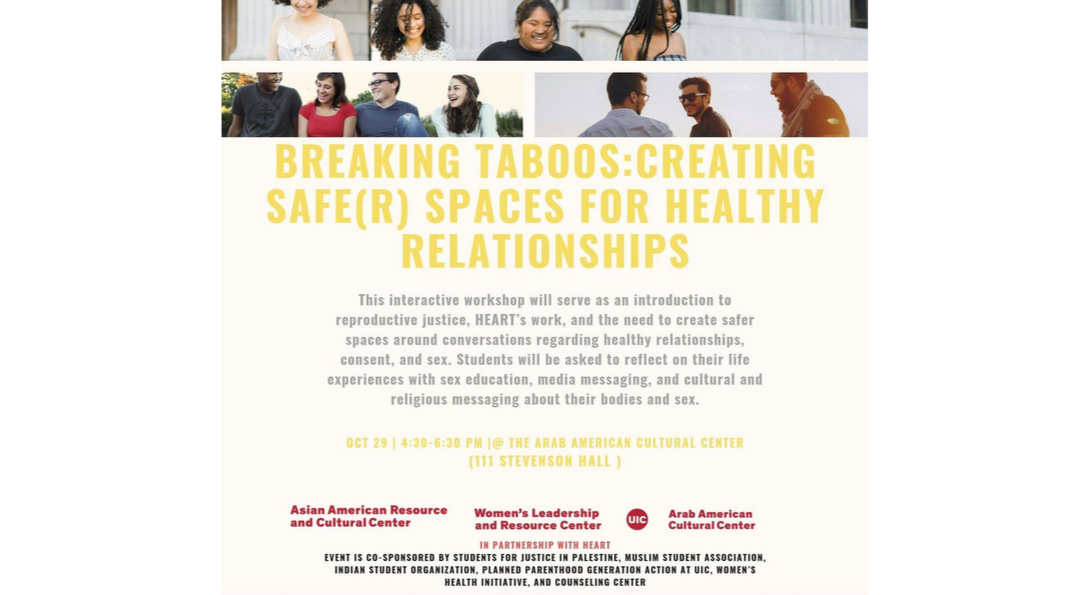 Address
Arab American Cultural Center, 111 Stevenson Hall, 701 S. Morgan St., Chicago, IL 60607
Join us for an interactive workshop with an introduction to reproductive justice and a conversation regarding healthy relationships, consent, and sex.
Sex, relationships, and reproduction are sensitive topics in many of our communities. We're calling all students to join us as we deconstruct life experiences with sex education, media messaging, and cultural and religious messaging about their bodies and sex.
Hosted by the UIC Arab American Cultural Center, Women's Leadership and Resource Center, and Asian American Resource and Cultural Center in partnership with HEART, a national organization that ensures Muslims have the resources, language, and choice to nurture sexual health and confront sexual violence.
Co-sponsors: Students for Justice in Palestine, Muslim Student Association, Indian Student Organization, Planned Parenthood Generation Action, Women's Health Initiative, and Counseling Center.
RSVP
Date updated
Oct 28, 2019