Apr
24
2019
Bring Her Home: Stolen Daughters of Turtle Island
April 24, 2019
2:30 PM - 4:00 PM
Location
WLRC, 1101 W. Taylor St., Suite 310
Address
Chicago, IL 60607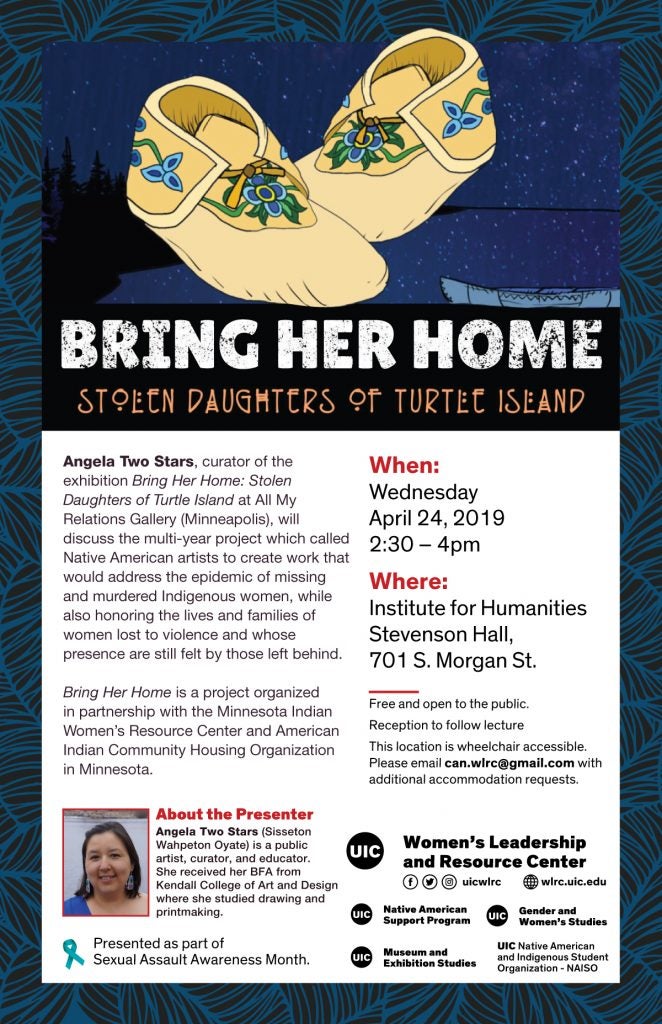 Angela Two Stars, curator of the exhibition Bring Her Home: Stolen Daughters of Turtle Island at All My Relations Gallery (Minneapolis), will discuss the multi-year project which called Native American artists to create work that would address the epidemic of missing and murdered Indigenous women, while also honoring the lives and families of women lost to violence and whose presence are still felt by those left behind.
Bring Her Home is a project organized in partnership with the Minnesota Indian Women's Resource Center and American Indian Community Housing Organization in Minnesota.
About the Presenter
Angela Two Stars (Sisseton Wahpeton Oyate) is a public artist, curator, and educator. She received her BFA from Kendall College of Art and Design where she studied drawing and printmaking.