Apr
17
2023
Apply for a DCEP Internship
April 17 - May 26, 2023
9:00 AM - 5:00 PM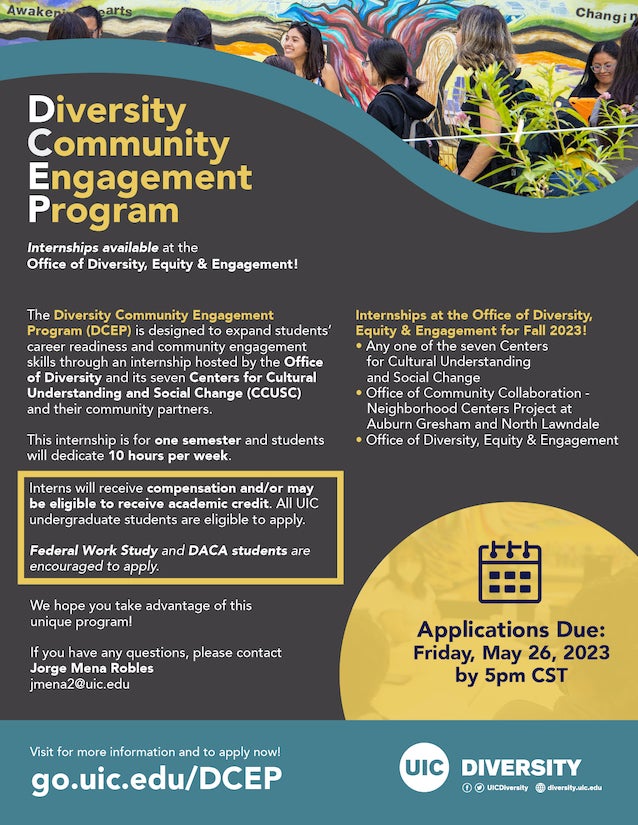 Are you an undergraduate student interested in working with the Women's Leadership and Resource Center / Campus Advocacy Network or one of our sibling cultural centers? Apply for the Fall 2023 DCEP Internship!
The Diversity Community Engagement Program (DCEP) is designed to expand students' career readiness and community engagement skills through an internship hosted by the Office of Diversity, Equity, & Engagement; its seven Centers for Cultural Understanding and Social Change (CCUSC); and their community partners.
By participating in the DCEP internship, students will build professional competencies and relationships, develop decision-making skills, gain knowledge on the purpose and value of academic and community partnerships, and develop interpersonal skills that can transfer to their future careers.
Through this internship, students will also identify pressing social issues impacting local communities and expand their capacity while learning of relevant solutions to community needs.
Length: One semester
Hours: 10 hours per week
Compensation/Course Credit: Interns will receive compensation and/or may be eligible to receive academic credit.
Eligibility: All UIC undergraduate students are eligible to apply. Federal Work Study and DACA students are encouraged to apply.
Application Deadline: May 26, 2023 at 5pm
Details: Learn more and apply today!
Apply now!
Date updated
Apr 27, 2023