Sep
26
2018
On Being A Graduate Student
Onwards
September 26, 2018
5:00 PM - 7:00 PM
Location
WLRC, 1101 W. Taylor St., Suite 310
Address
Chicago, IL 60607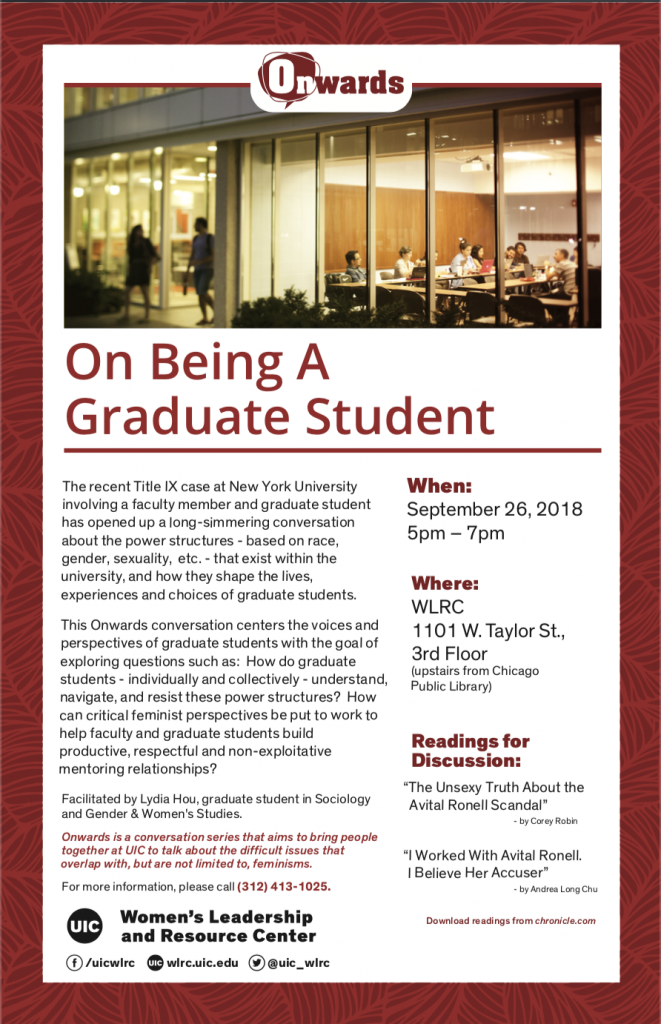 The recent Title IX case at New York University involving a faculty member and graduate student has opened up a long-simmering conversation about the power structures - based on race, gender, sexuality, etc. - that exist within the university, and how they shape the lives, experiences and choices of graduate students.
This Onwards conversation centers the voices and perspectives of graduate students with the goal of exploring questions such as: How do graduate students - individually and collectively - understand, navigate, and resist these power structures? How can critical feminist perspectives be put to work to help faculty and graduate students build productive, respectful and non-exploitative mentoring relationships?
Facilitated by Lydia Hou, graduate student in Sociology and Gender & Women's Studies.
Onwards is a conversation series that aims to bring people together at UIC to talk about the difficult issues that overlap with, but are not limited to, feminisms.
Readings for Discussion:
"The Unsexy Truth About the Avital Ronell Scandal" & "I Worked With Avital Ronell. I Believe Her Accuser"