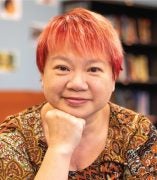 Ada Cheng, PhD
Education and Outreach Specialist, Campus Advocacy Network
Pronouns: She/her/hers
About
Dr. Ada Cheng is the Education and Outreach Specialist of the Campus Advocacy Network.
Ada is an educator who comes to UIC with a strong background in race, gender, immigration and gender-based violence. Her interests span multiple fields: academia, storytelling/performance art, and advocacy. Ada has been a faculty member in Sociology and Women's & Gender Studies at DePaul University and recently served as a project specialist on gender-based violence prevention initiatives with KAN-WIN, a Chicago organization that provides support, education and advocacy for Asian American women survivors of interpersonal violence.
Beyond her work with UIC, Ada's work as a storyteller helps her create platforms for people to tell difficult and vulnerable stories as well as spaces for people and communities who may not have opportunities otherwise. She has performed her two solo shows all over the country and is currently producer for four storytelling shows, including Pour One Out: A Monthly Storytelling Series, Am I Man Enough?, Talk Stories: An Asian American/Asian Diaspora Storytelling Show, and Speaking Truths Series. She was recently featured in New City's "Lit 50: Who Really Books In Chicago."
Ada is available to work with a broad range of campus units - departments, student groups, athletics units, etc. - to offer education programs and develop initiatives that will expand our collective capacity to understand and respond to interpersonal violence, and to make our campus free of stalking, sexual harassment, sexual assault and domestic violence.
Address: 1101 W. Taylor St., Suite 310, Chicago, IL 60607
Phone: (312) 996-0372
Email: adacheng@uic.edu