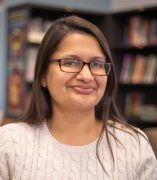 Ramona Gupta, MS
Associate Director
Pronouns: She/her/hers
Contact
Building & Room:
1700 Student Services Building
Address:
1200 W. Harrison, Chicago, IL 60607
Office Phone:
Email:
About
Ramona Gupta is the Associate Director of the Women's Leadership and Resource Center.
She has also served as an instructor for the First-Year Dialogue Seminar (DLG 120). Prior to joining WLRC, Ramona served as the Associate Director for Diversity and Inclusion at the UIC College of Pharmacy and the Coordinator of Asian American Cultural Affairs at Columbia College Chicago, where she facilitated social justice education and served on the President's Diversity, Equity, and Inclusion Committee. She has also worked with a number of Chicago-based nonprofits focused on education.
Ramona has devoted considerable time organizing with and building the capacity of grassroots organizations serving Asian Pacific Islander Desi American and emerging leader communities, including the South Asian Progressive Action Collective, Leadership Center for Asian Pacific Americans, and Young Nonprofit Professionals Network. She has been a member of the Asian Giving Circle, a community-driven donor-advised fund, since 2015 and has served on the grantmaking committee since 2017. Her current interests include building bridges of understanding and alliance across minoritized communities, improving intersectional cultural competence among higher education administrators, and learning and creating inclusive pedagogical tools. She welcomes all opportunities to connect and work together toward justice.
Ramona received a Bachelor of Arts (BA) in Political Science and a BA in Sociology from the University of Illinois at Urbana-Champaign and a Master of Science in Public Service Management from DePaul University.