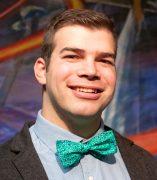 Seth Quam
Graduate Assistant
Pronouns: He/him/his
About
Seth Quam is a Graduate Assistant at the Women's Leadership and Resource Center.
Seth graduated from Syracuse University, where he majored in Geography and Citizenship and Civic Engagement, and minored in Women and Gender Studies. After college he worked as a youth advocate at the Southwest Crisis Center, a nonprofit agency that serves victims and survivors of domestic violence, sexual assault, and human trafficking in southwest Minnesota. Seth is interested in promoting healthy masculinity, ending rape culture, criminal justice reform, and environmental sustainability.
Seth enjoys exploring a plethora of hobbies including cooking, baking, woodworking, jewelry-making, pottery, west coast swing dancing, painting, french braiding, volleyball, basketball, soccer, and co-hosting a podcast about the intersections of Harry Potter and social justice.