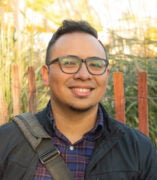 Alonzo Zamarrón
Graphic Designer
Pronouns: He/him/his
About
Alonzo Zamarrón is the Graphic Designer for the Rafael Cintrón Ortiz Latino Cultural Center (LCC), Office of Diversity (OOD), and Women's Leadership and Resource Center (WLRC).
Alonzo started as a Graphic Designer for the UIC Latino Cultural Center from Spring 2014 to Spring 2017, while pursuing a BFA in Graphic Design from UIC and now continues to lend his artistic eye to the LCC, OOD, and WLRC. To see more of Alonzo's work, visit alonzozamarron.com.
Born and raised in Rochelle, IL and transplanted to Chicago, Alonzo became involved with many social justice movements by designing and printing their promotional material. After graduating, Alonzo was hired full-time in a role that currently supports several UIC diversity units including the Latino Cultural Center, Office of Diversity, and the Women's Leadership and Resource Center.
During his spare time and on weekends, Alonzo plays the trumpet, saxophone, and guitar as a member of Banda San Guillermo, Fuerte Arranke, and UIC's Mariachi Fuego. His musical performances have taken him to many cities across Illinois and the Midwest, which has exposed him to the many different ways Latinx communities come together to celebrate.