Oct
13
2021
Feminist Page-turners: Blind to Betrayal
October 13, 2021
12:00 PM - 2:00 PM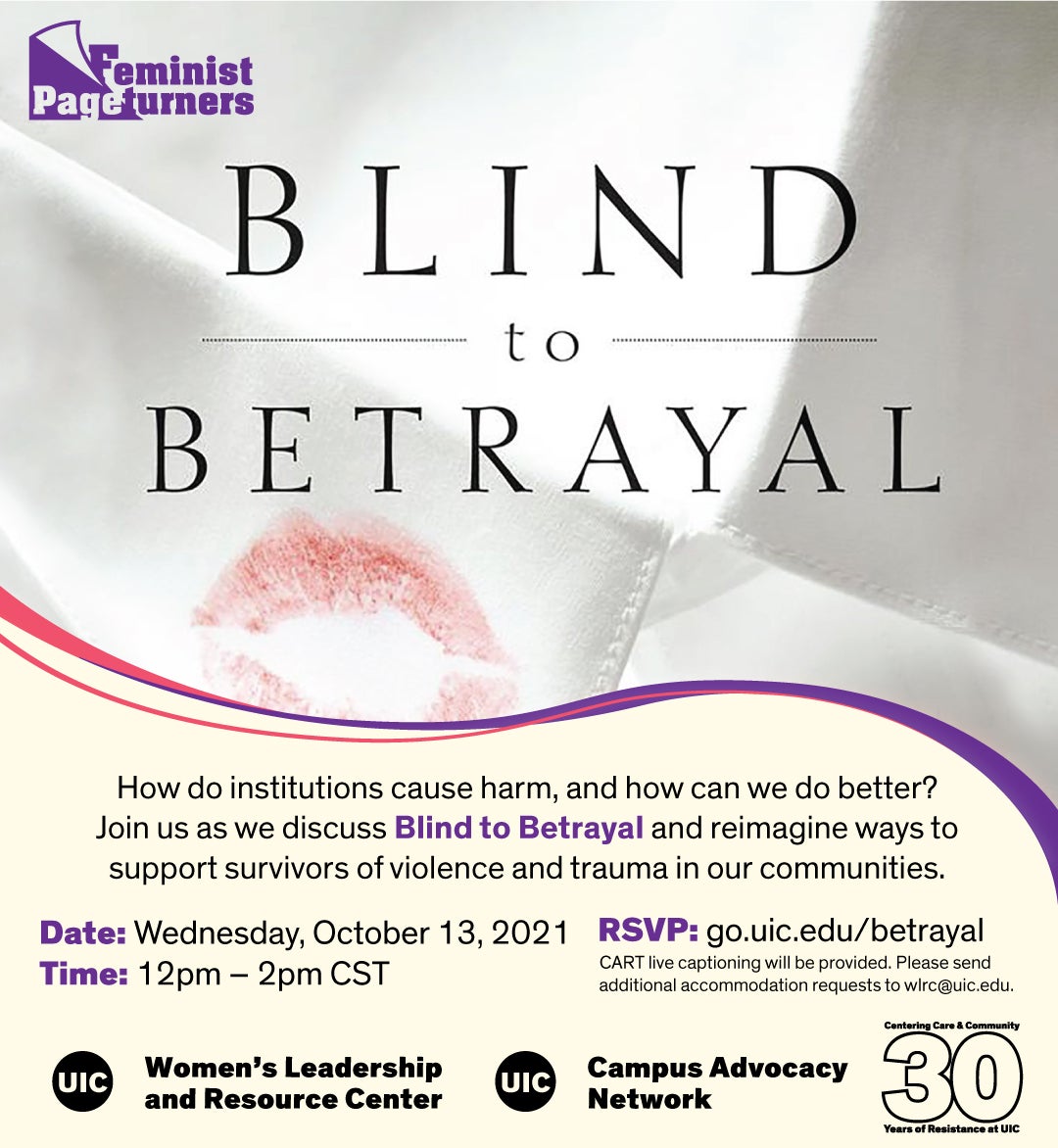 How do institutions cause harm, and how can we do better?
Join us as we discuss Blind to Betrayal by Dr. Jennifer Freyd and Dr. Pamela Birrell and reimagine ways to support survivors of violence and trauma in our communities.
Register to receive Zoom link.
To access the book:
CART live captioning will be provided. Please send additional accommodation requests to wlrc@uic.edu.
*Note: Dr. Freyd will not be in attendance at this event.
--
About Blind to Betrayal:
Written by one of the world's top experts on betrayal, child abuse, and trauma, Blind to Betrayal explains many different forms of betrayal, revealing why its victims can endure mistreatment, sometimes for years, without seeming to know that it is happening, even when it may be obvious to others around them. In particular, our conversation will center on institutional betrayal, ways that institutions cause harm to those that depend on them, and institutional courage, our commitment to instead protect and care for members of  our communities.
--
Please also save the date for these upcoming virtual events with Dr. Jennifer Freyd:
30th Anniversary Keynote Lecture
Tuesday, October 26, 2021
12:30-2pm CT
Graduate Seminar
Thursday, October 28, 2021
12:30-2pm CT
--
Blind to Betrayal includes detailed narratives of structural violence, sexual assault, domestic violence, and family abuse. If you need support as you read the text, we encourage you to reach out to the Campus Advocacy Network at can-appointment@uic.edu, the UIC Counseling Center's crisis line at 312-996-3490 (select option "2" after business hours), the Illinois Domestic Violence Hotline at 877-863-6338, or the Chicago Rape Crisis Hotline at 1-888-293-2080. Additional resources are listed on our Survivor Resources page.
Register