Nov
10
2021
Feminist Films: Athlete A Screening
Celebrating WLRC & CAN's 30th Anniversary
November 10, 2021
4:00 PM - 6:00 PM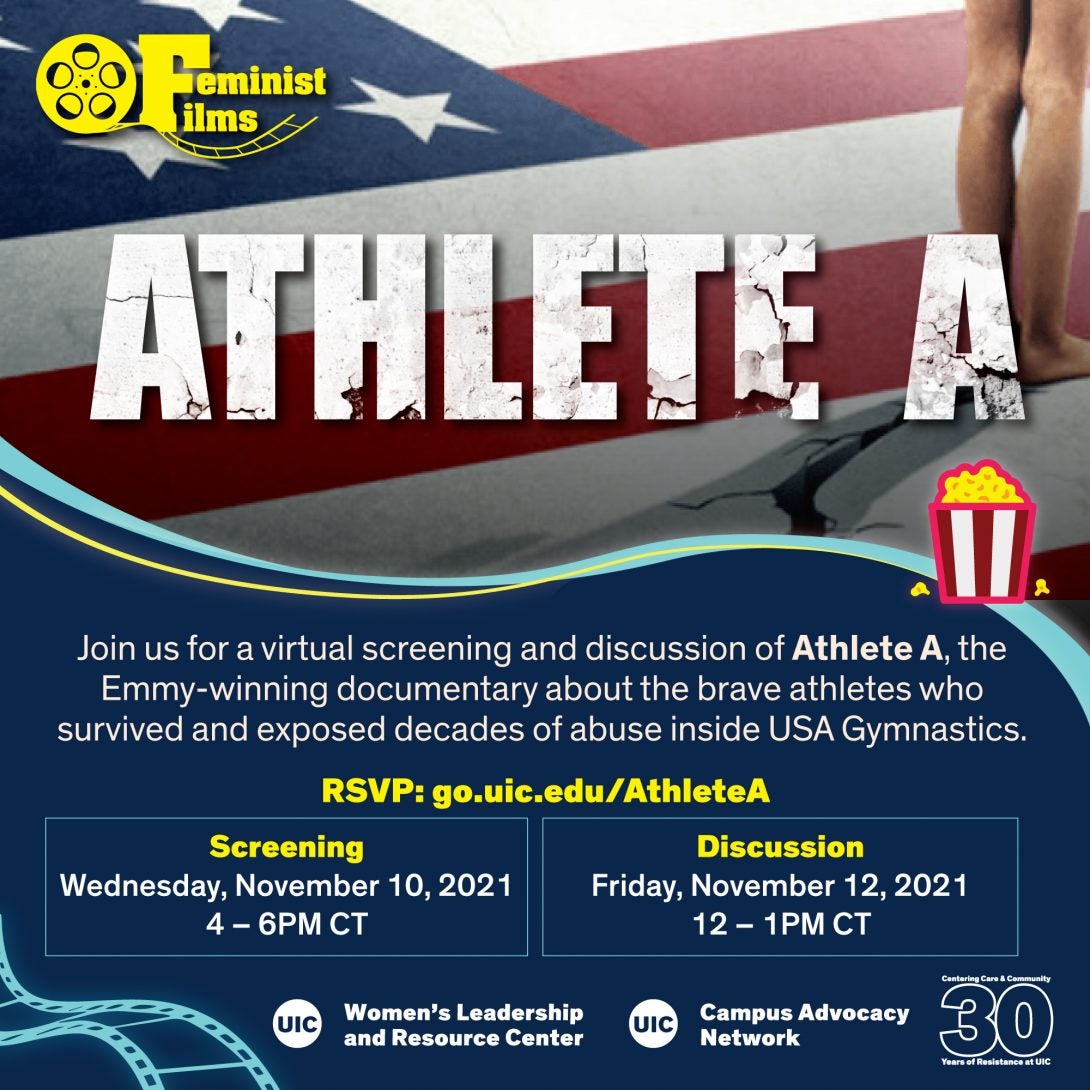 Join us for a virtual screening of Athlete A, the Emmy-winning documentary about the brave athletes who survived and exposed the toxic culture and decades of abuse inside USA Gymnastics.
The film's closed captions and Zoom auto-captioning will be turned on. An advocate from WLRC's Campus Advocacy Network will be available for anyone who would like to speak privately during or after the event. Please send questions or additional accommodation requests to wlrc@uic.edu.
Please also join us for a discussion of the film on Friday, November 12, 12-1pm CT!
Presented as part of WLRC's 30th anniversary programming focusing on the Campus Advocacy Network's efforts to end gender-based violence and support survivors at UIC.
About the film:
Athlete A spotlights the horrific sexual abuse of hundreds of young athletes by USA Gymnastics team doctor Larry Nassar, and shines an even brighter light on the team of individuals working to hold USAG and Nassar accountable. The Indianapolis Star reporters who broke the story and revealed the cover-up that occurred at the highest levels of the Olympic sport. The courageous group of survivors—Maggie Nichols, Rachael Denhollander, Jamie Dantzscher and Jessica Howard–who bravely fought the system. Together with a team of other determined women,including—police detective Lt. Andrea Munford and prosecuting attorney Angela Povilaitis— truth prevailed. Justice was served. Nichols was able to find joy in the sport again—at the college level.
Register