Our mission:
Increase awareness of and affirm the diverse needs of woman-identified persons in higher education.

Provide opportunities to learn about the histories of and contemporary issues in feminist movements, activism, and scholarship, especially as they relate to white supremacy, ableism, heterosexism, transphobia, wealth inequality, et al.

Promote gender equity, anti-violence, inclusion, and social justice on campus and in the larger society and world.
The center's Campus Advocacy Network (CAN) program provides
Advocacy confidential crisis support and advocacy for survivors of any gender/sexual/racial identity or university status who have experienced gender-based violence

Education educational programs, training, campaigns, activism, internships, and community-building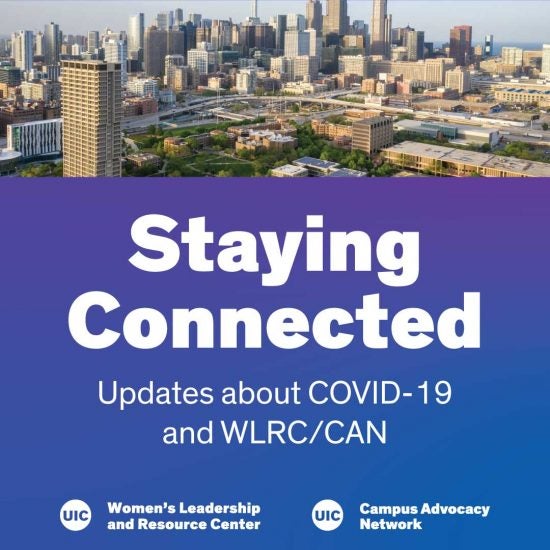 Staying Connected: Updates about COVID-19 and WLRC/CAN
May 2021 Update:
WLRC will continue to be physically closed during the summer. Our staff are working remotely and hosting virtual programs.  We will continue to stay connected with you through social media and email.
The Campus Advocacy Network will continue to serve UIC students, faculty, and staff through virtual appointments.
To schedule a meeting with our confidential advocate or request more information, please email can-appointment@uic.edu or leave a voicemail at (312) 413-8206.
Read more
Upcoming Events
Wednesday, 12:00 pm–1:30 pm
Zoom
Thursday 7th, 9:00 am–Friday 8th, 2:00 pm