Mar
29
2023
Artist-Activists Reimagining Reproductive and Gender Justice
Women's History Month
March 29, 2023
12:00 PM - 2:00 PM
Address
1200 W. Harrison St., Suite 1700, Chicago, IL 60607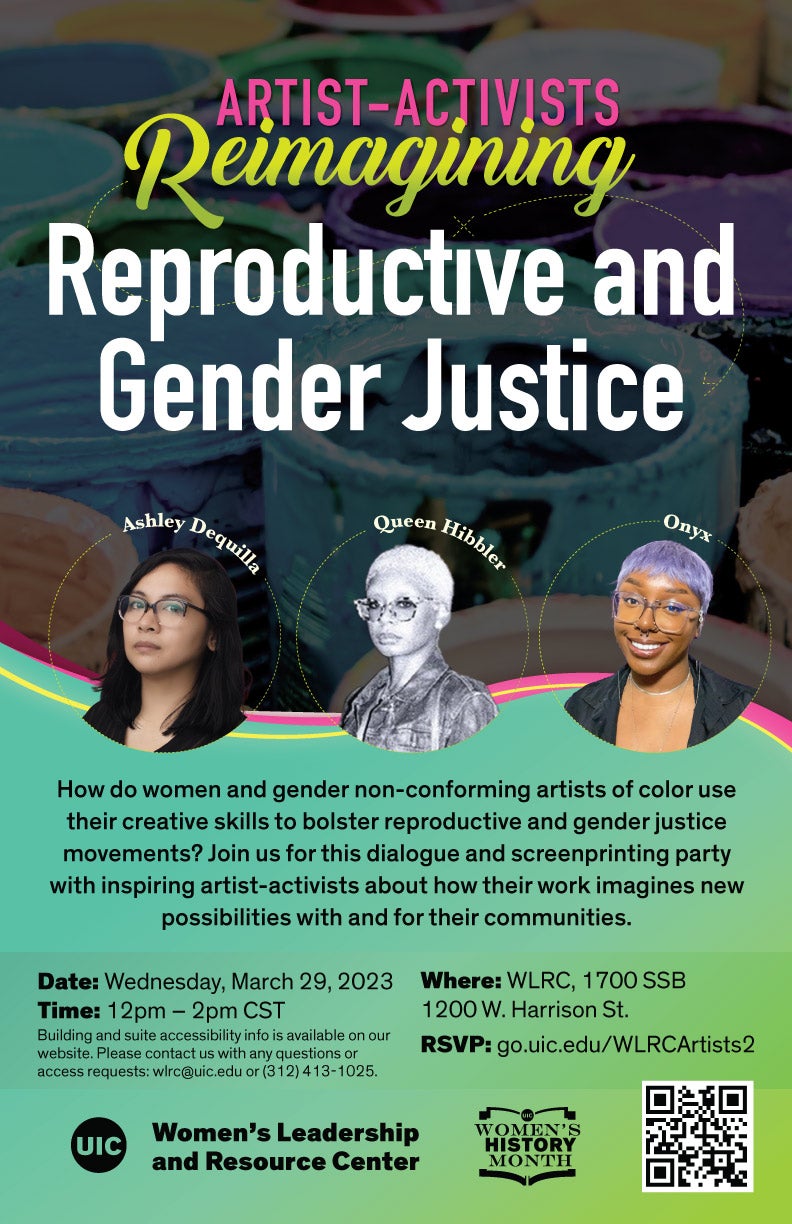 UPDATE: Guests may join us in person at 1700 Student Services Building OR via Zoom! Details for both options will be sent to all who register.
How do women and gender non-conforming artists who are Black, Indigenous, and people of color decide to use their creative skills to bolster social justice movements? How does their work engage racial and economic justice to imagine new possibilities with and for their local communities and beyond? How do they bring this work into the academy and vice-versa?
During Women's History Month, the UIC Women's Leadership and Resource Center is hosting dialogues with artists, activists, and educators to explore these questions and inspire new ways to work collectively toward a better world.
Join us for a conversation with artists and community activists Ashley Dequilla, Queen Hibbler, and Onyx about how their work brings visibility to reproductive and gender justice movements. This portion of the event will be hosted in person AND on Zoom!
The discussion will be followed by a screenprinting party for our in-person guests, featuring a custom design by one of the participating artists. Please bring a t-shirt, tote bag, poster, or other item to have screenprinted (we will have some shirts and bags available for free on a first-come, first-served basis).
Accessibility and food info:
We ask that everyone attending in-person wear a mask to protect our community's health and safety.
Captions will be provided for our Zoom attendees (we are hoping to secure CART live captioning, but, at a minimum, auto-captions will be turned on).
Lunch will be available for takeaway at the end of the program.
Building and suite accessibility info is available on our website.
If you have any questions or access requests, please contact us at wlrc@uic.edu or (312) 413-1025.
Hosted as part of WLRC's celebration of Women's History Month.
Register
Date updated
Mar 27, 2023
Speakers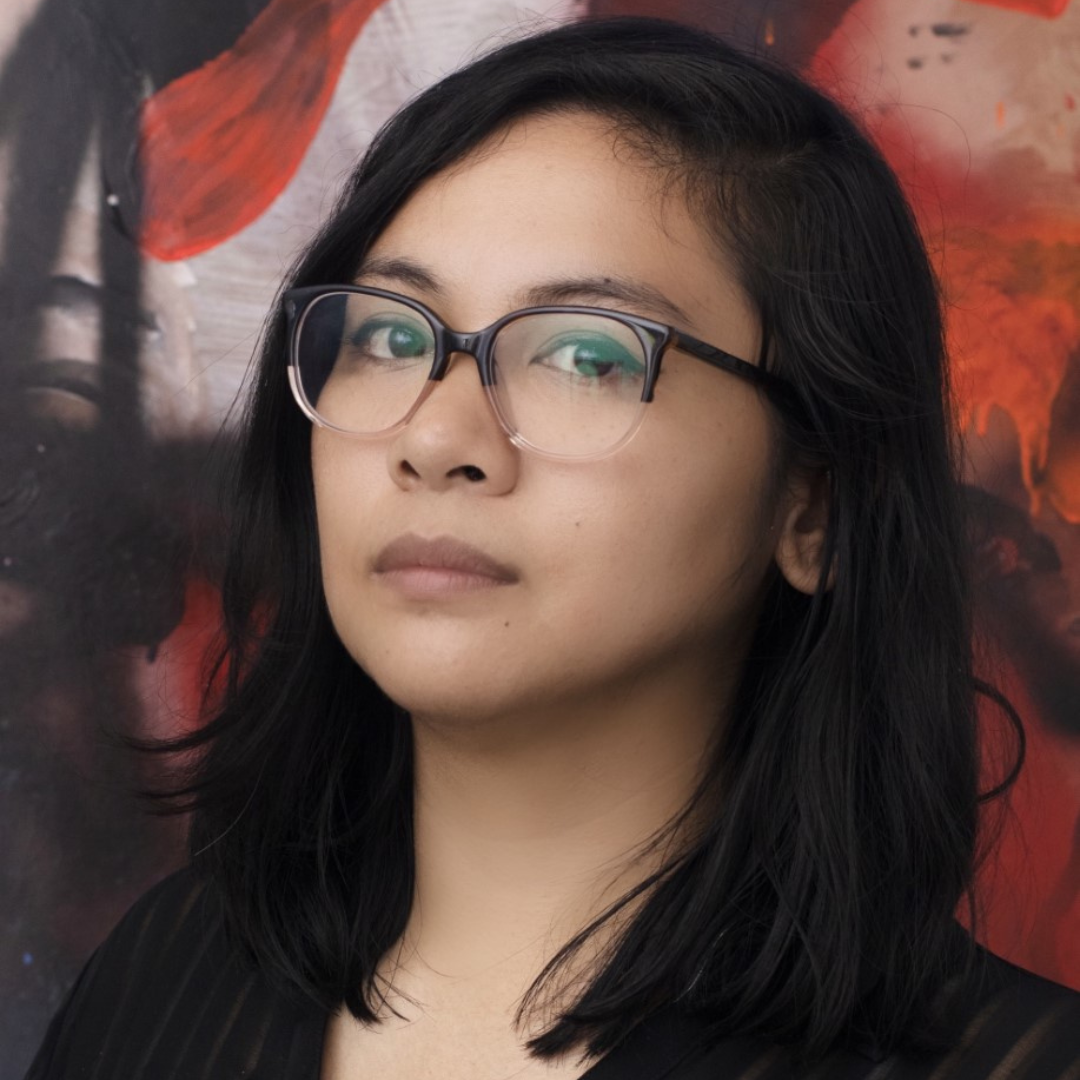 Ashley Dequilla
|
Artist-Filmmaker and MFA Student
|
University of Illinois Chicago
Ashley Dequilla is an artist-filmmaker born to Filipino immigrants who uses painting, performance, moving image, installation, and ritual in her practice. Ashley graduated from the College of William and Mary with a BFA in Studio Art and Art History and holds a post-Baccalaureate certificate in Fine Arts from the Maryland Institute College of Art. She is the two-time recipient of the UIC Award for Graduate Research and the current Artist-in-Residence of the Global Asian Studies department. She also works as a community organizer in the realm of Philippine cultural production and gender violence survivor advocacy.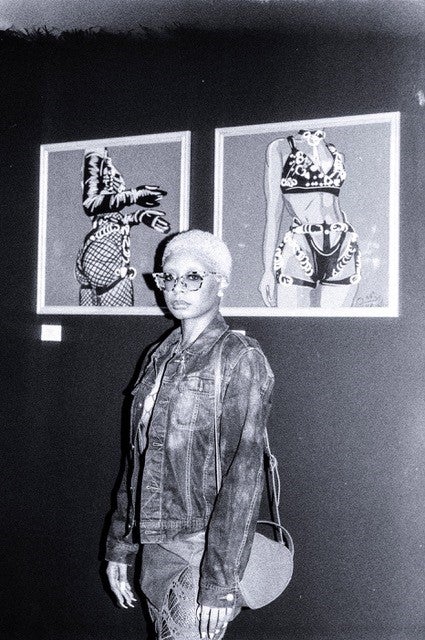 Queen Hibbler
|
Artist and MFA Student
|
University of Illinois Chicago
Queen Hibbler is an artist from Outwest, Chicago. Hibbler obtained her Bachelor of Art in Graphic Design and Printmaking at Western Illinois University in December 2016. As a proud Black woman & artist, her work is representative of the beauty of what it means to be Black—as well as a woman. Hibbler is currently experimenting with different concepts and mediums to illustrate her aesthetic on a larger scale. Queen tends to be graphic and fluid with the marks she makes. With influences of Van Gogh, Basquiat, Kahlo, Kerry James Marshall, and Kehinde Wiley, the two elements seem to mesh. Currently, Queen is a full-time artist and advocate for sex workers' rights.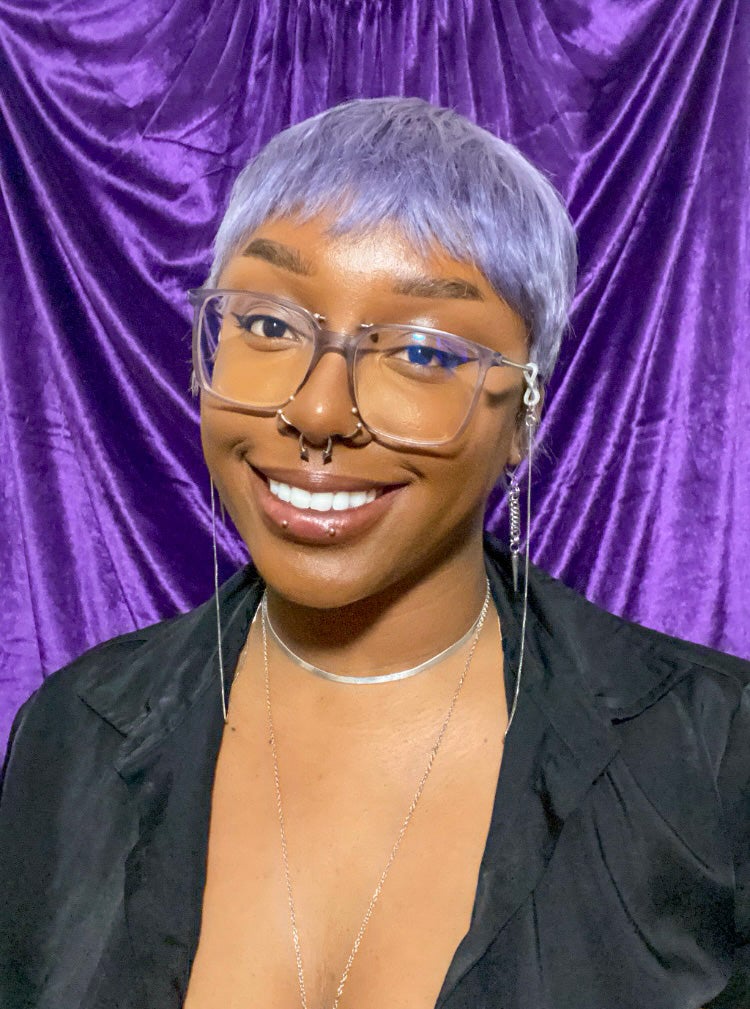 Onyx
|
Artist
Onyx is a Black Trans Genderless Pro Dom and Artist. I love expressing and discovering new things myself both in my Professional Dom work as well as my art work. I am currently doing three different series that focus on genitalia. As a Genderless artist, I think depicting genitalia in their complex forms is very important in showing that gender and genitals are not and do not have to be interconnected. The pleasure I get from creating art, whether it be layering acrylic on canvas or transforming a client with Shibari, is oh so rewarding.