Mar
17
2022
Artist-Activists Reimagining Justice: Aram Han Sifuentes and Lisa Woolfork
Women's History Month
March 17, 2022
12:00 PM - 1:15 PM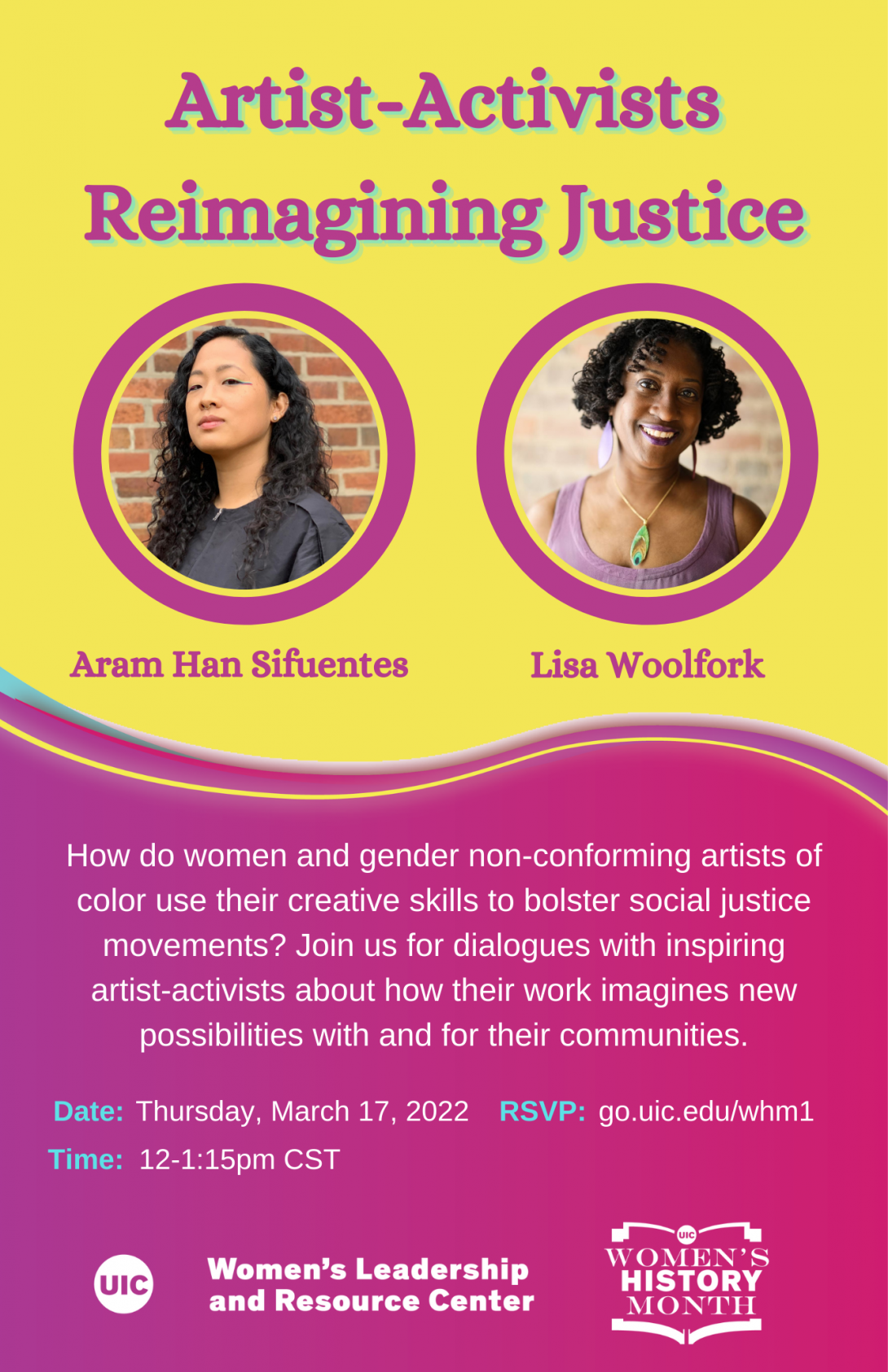 How do women and gender non-conforming artists who are Black, Indigenous, and people of color decide to use their creative skills to bolster social justice movements? How does their work engage racial and economic justice to imagine new possibilities with and for their local communities and beyond? How do they bring this work into the academy and vice-versa?
This Women's History Month, the UIC Women's Leadership and Resource Center is hosting dialogues with artists, activists, and educators to explore these questions and inspire new ways to work collectively toward a better world.
CART live captioning will be provided. Please send any questions or access requests to wlrc@uic.edu.
Register
Date updated
Mar 10, 2022
Speakers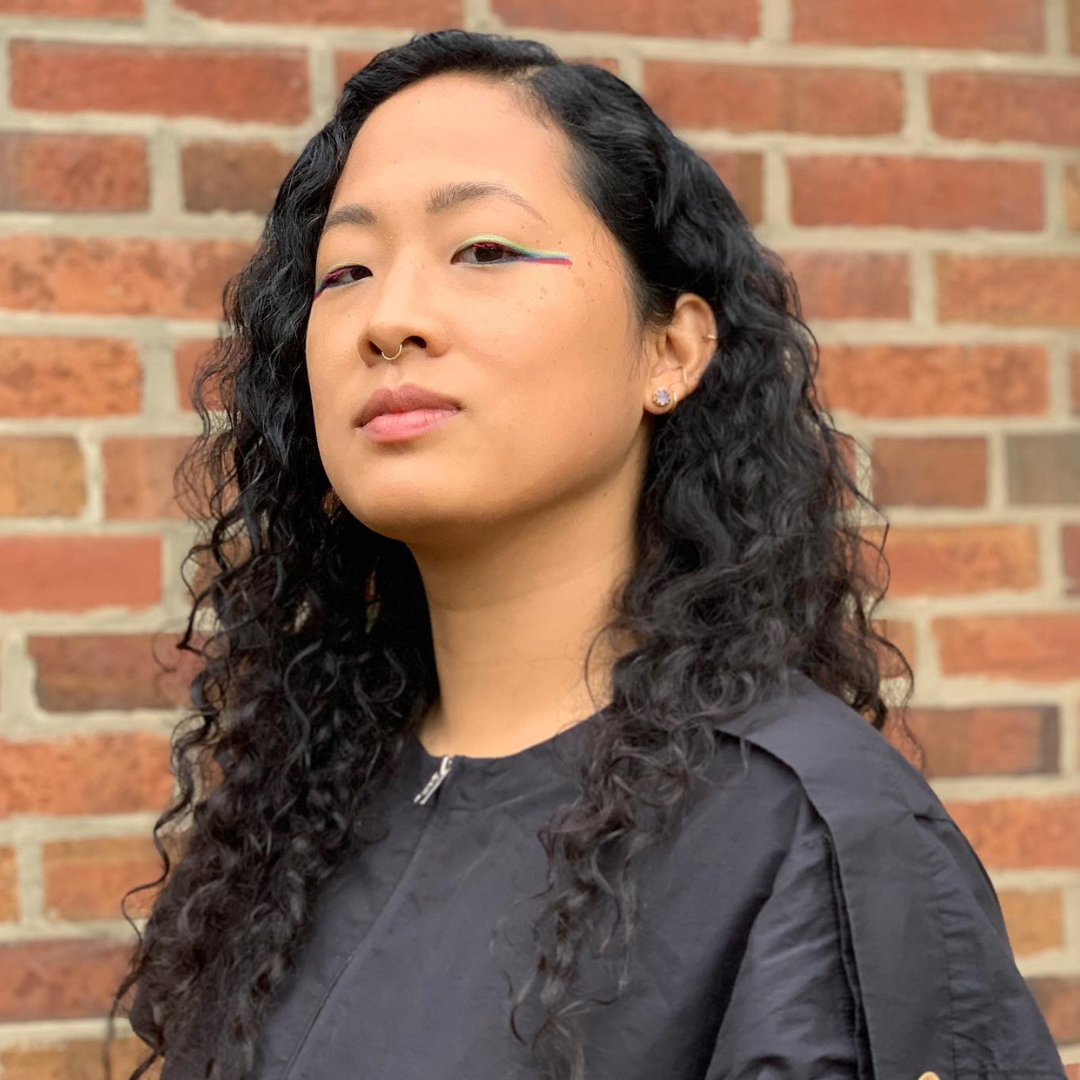 Aram Han Sifuentes
|
artist, associate professor, adjunct
|
School of the Art Institute of Chicago
Aram Han Sifuentes is a fiber and social practice artist, writer, and educator who works to center immigrant and disenfranchised communities. Her work often revolves around skill sharing, specifically sewing techniques, to create multiethnic and intergenerational sewing circles, which become a place for empowerment, subversion, and protest. Solo exhibitions of her work have been presented at the Jane Addams Hull-House Museum (Chicago), Hyde Park Art Center (Chicago), Chicago Cultural Center (Chicago), Pulitzer Arts Foundation (St. Louis), currently at moCa Cleveland (Cleveland), and upcoming at the Skirball Cultural Center (Los Angeles) in April 2022. Aram is a 2016 Smithsonian Artist Research Fellow, 2016 3Arts Award and 2021 3Arts Next Level Awardee, 2020 Map Fund Grantee, and 2022 Center of Craft's Craft Research Fund Artist Fellow. Her project Protest Banner Lending Library was a finalist for the Beazley Design Awards at the Design Museum (London, UK) in 2016. She earned her BA in Art and Latin American Studies from the University of California, Berkeley, and her MFA in Fiber and Material Studies from the School of the Art Institute of Chicago. She is currently an associate professor, adjunct, at the School of the Art Institute of Chicago.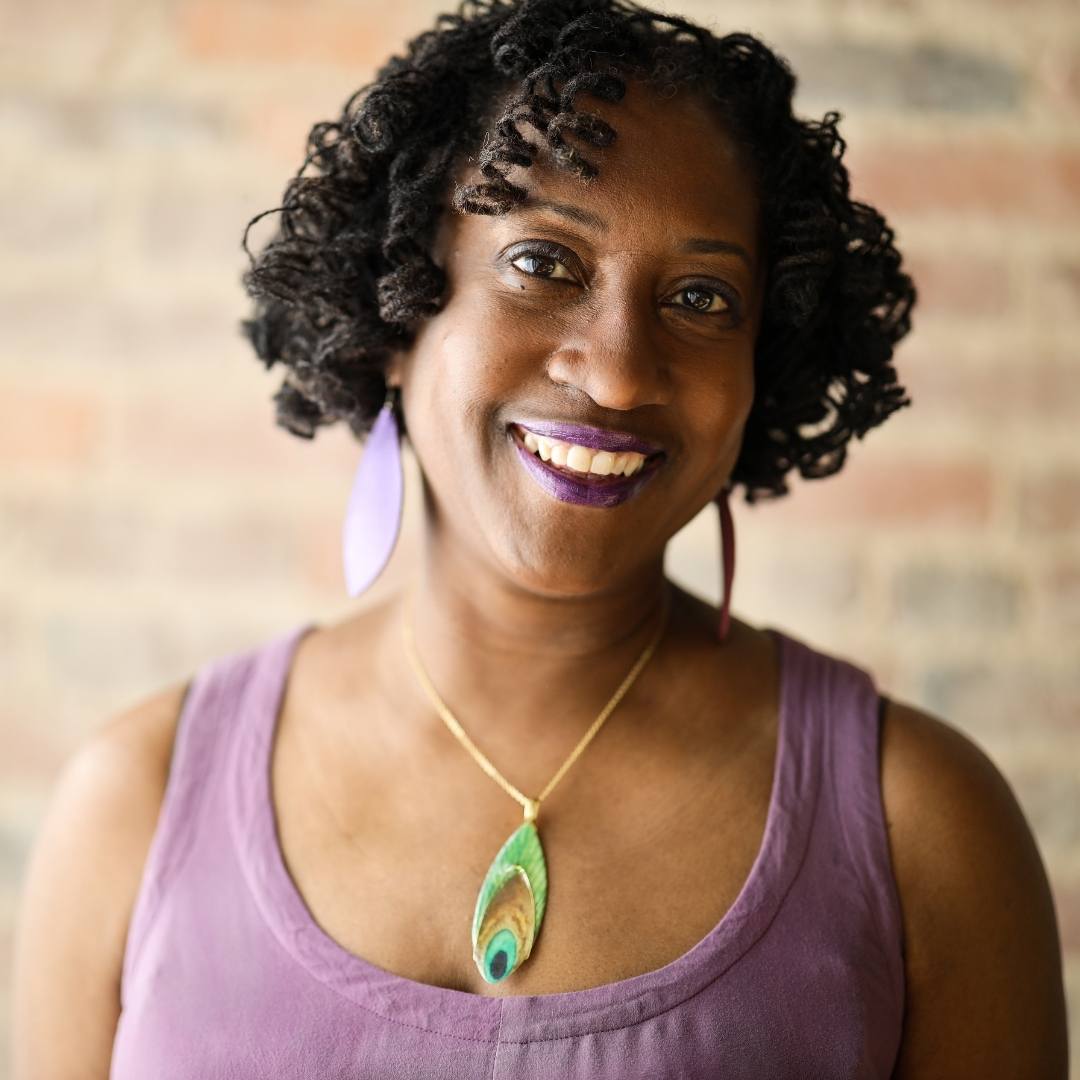 Lisa Woolfork, PhD
|
Convener, Black Women Stitch; Host, Stitch Please podcast
Lisa Woolfork is a sewist, podcaster, community organizer and scholar. She is the founder of Black Women Stitch, the sewing group where Black Lives Matter. She is also the host/producer of Stitch Please, a weekly audio podcast that centers Black women, girls, and femmes in sewing. In the summer of 2017, she became a founding member of Black Lives Matter Charlottesville. This group protested against the white supremacist insurgency that had taken hold of the Virginia city. She organized in a variety of ways including nonviolent direct action, working with a bail fund for activists, sewing for a creative arts team, and co-founding a media collective. A fourth-generation sewing enthusiast, she has spoken about the connections between Black liberation and craft for the Smithsonian's African American Craft Summit, the Modern Quilt Guild, the Center for Craft, Architectural Digest and more. Her work interrogates boundaries between art and craft, social justice and liberation. Practicing the unlikely but not unprecedented mix of needle arts and Black liberation, Woolfork's sewing and quilting practice operates alongside her scholarly inquiry as an Associate Professor of English at the University of Virginia. Woolfork offers courses in the fields of Black literary and cultural studies. As a creative arts practitioner, Woolfork is interested in the structural elements of stitching as a form meaning making and archiving the ephemera of Black aliveness (a la Kevin Quashie). Forecrafting is a new theory that she is currently working through. Inspired by and thinking alongside scholar-artists of radical possibility such as adrienne maree brown, Ashon Crawley, and Alexis Pauline Gumbs, Woolfork's concept of "forecrafting" holds in tandem the simultaneity of the imminent future and the urgency of the now. Forecrafting is the process by which ancestral Black women needle/textile/fiber workers used their skills to create structures that would preserve (a measure) of freedom for their children and descendants, while serving as an archive of their own unfree experience. Forecrafting is a path towards liberation, a gesture executed in the meantime between now and eternity. Forecrafting is that which is created in crisis but also in faith that the future is broader and more open than the present or past.