Nov
30
2021
Speaking/Writing/Being: Black Feminist Methodologies
Speaking/Writing/Being: Centering Black Women's Intellectual Production
November 30, 2021
12:30 PM - 2:00 PM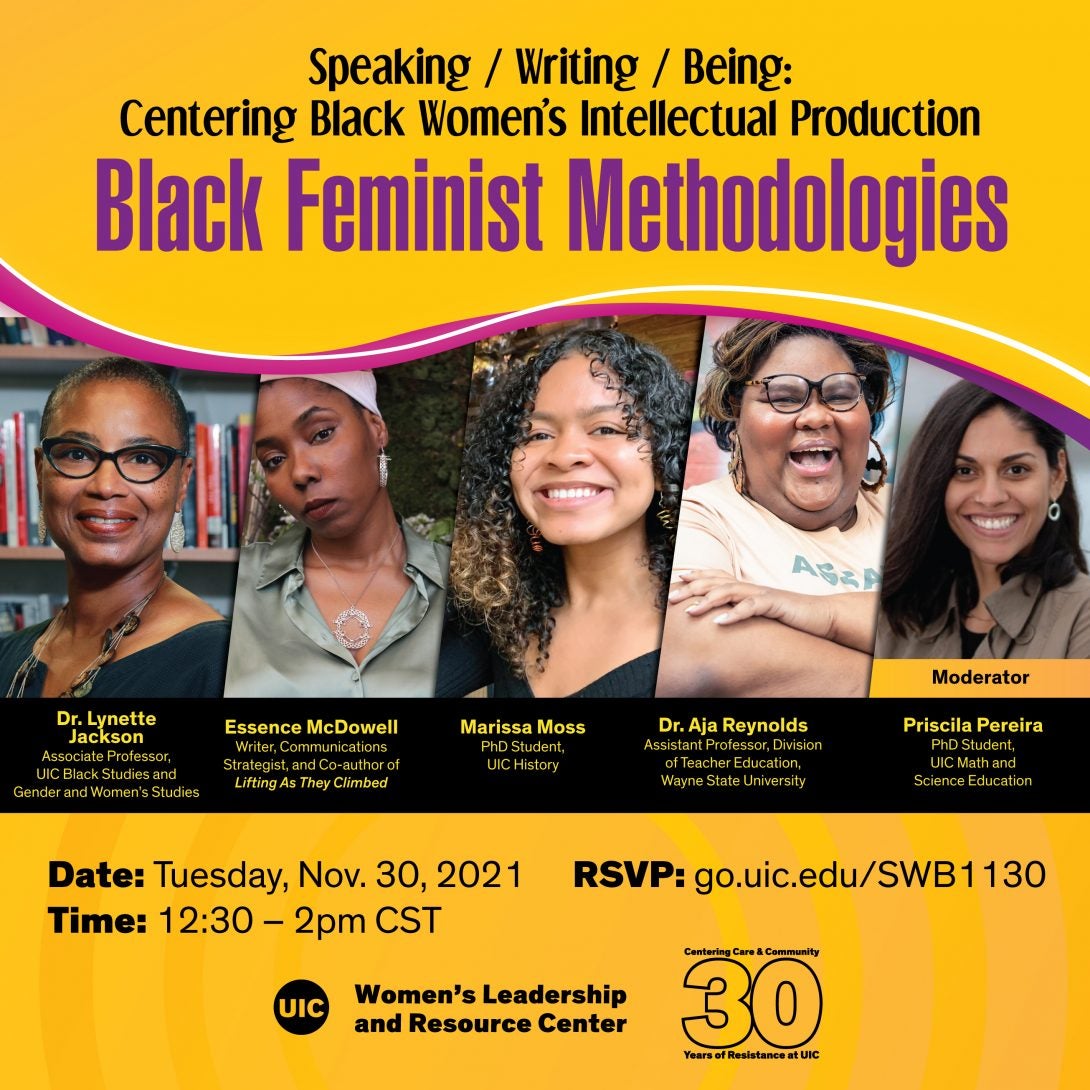 Speaking/Writing/Being is a celebration of Black women's intellectual traditions and experiences in diverse areas of knowledge.
Join us for an exciting conversation with scholar-activists about how they engage with Black feminist methodologies in their work, how Black feminist methodologies are being used in new and exciting ways, and the types of support and resistance they have encountered along the way.
CART live captioning will be provided. Please send any questions or additional accommodation requests to wlrc@uic.edu.
Register
Date updated
Nov 16, 2021
Speakers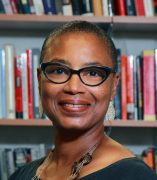 Dr. Lynette Jackson
|
Associate Professor, Black Studies and Gender and Women's Studies
|
University of Illinois Chicago
Lynette Jackson is an associate professor of Gender and Women's Studies and African American Studies at UIC. She received her PhD in African History from Columbia University in 1997. Dr. Jackson is the author of Surfacing Up: Psychiatry and Social Order in Colonial Zimbabwe (Cornell 2005) and numerous other articles and book chapters on topics relating to women, the state and medical and public health discourses in colonial and postcolonial Africa, particularly having to do with the regulation of African women's sexuality. Dr. Jackson's current research explores the history of child refugee diasporas from Southern Sudan, particularly focusing on two streams of unaccompanied children: The Lost Boys and Girls and the Cuban 600. She has also begun conducting research for a critical biography of Winnie Mandela. Dr. Jackson is engaged in social justice and human rights activism, with a particular focus on the human rights of women and girls and lesbian, gay, bisexual and transgendered peoples in Africa. She serves on the Chicago Committee of Human Rights Watch, the World Refugee Day planning committee and held previous board memberships on Heartland Alliance's Human Care Services and Vanavevhu: Children of the Soil, an organization that caters to orphans and vulnerable children from Zimbabwe. Dr. Jackson also provides expert witness testimony in gender-based political asylum cases, particularly cases involving Female Genital Mutiliation.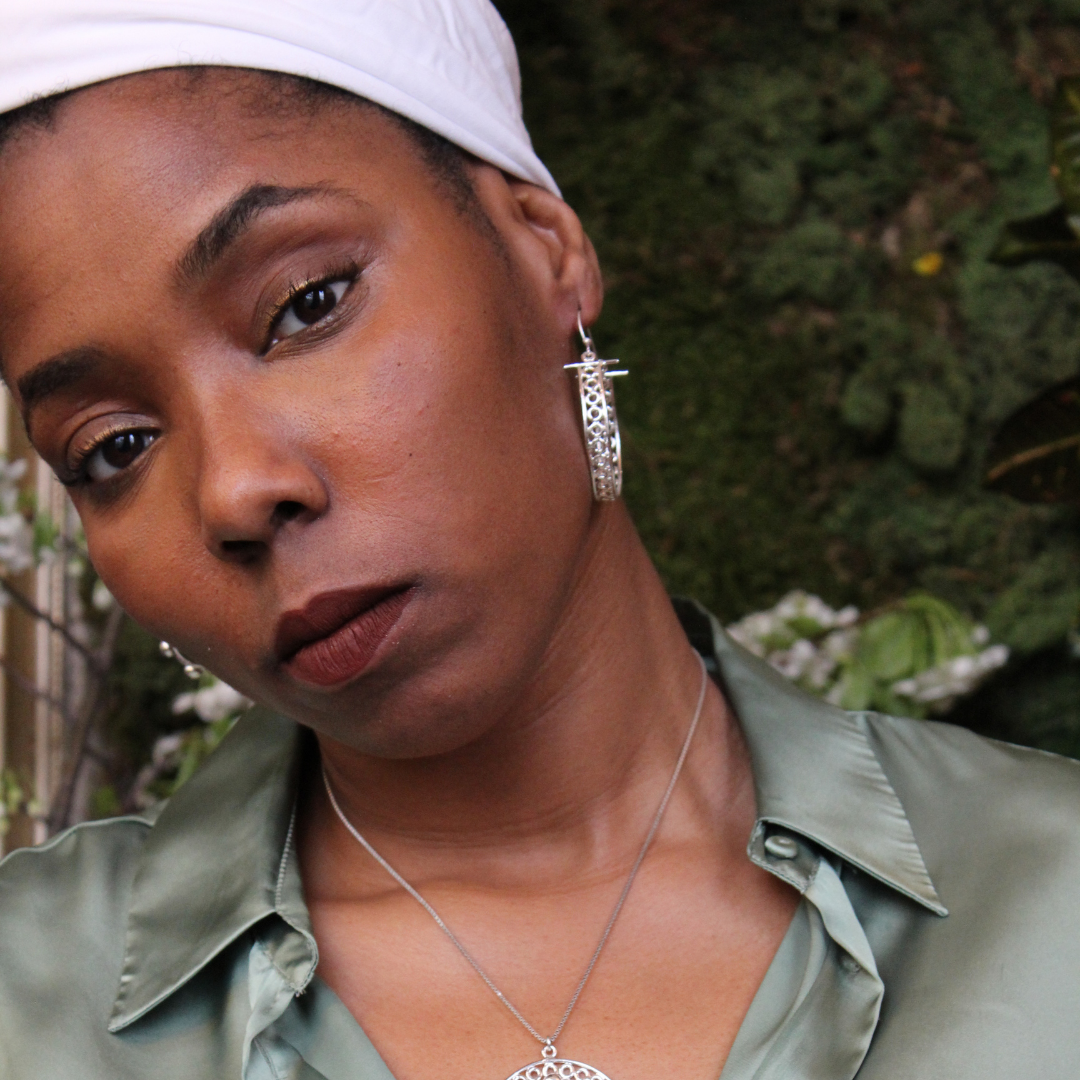 Essence McDowell
|
Writer, Communications Strategist, and Co-author of Lifting As They Climbed
Essence McDowell is a communications strategist, organizer and coauthor of Lifting As They Climbed: Mapping a History of Black Women on Chicago's South Side. She utilizes media, digital design and communications technologies to amplify the work of community institutions and justice-based organizations. Essence has worked with numerous national and local entities including Illinois Humanities Council, Chicago Torture Justice Memorials, Incite National, the Chicago Public Library and Chicago Teachers Union. She creates digital platforms, organizing tools, and impact strategies to facilitate social change. She is an organizer with the Protect Black Girls Coalition and the All African People's Revolutionary Party. Essence has also served on the board of the Chicago Freedom School. Since writing Lifting As They Climbed: Mapping a History of Black Women on Chicago's South Side with organizer and educator Mariame Kaba, the success of the publication has led the two authors to collaborate on an extended guidebook with Haymarket Publishing. Essence currently works as Director of Communications at the UIC Social Justice Initiative. She is also working to develop a resource hub for a national Black Feminist Coalition.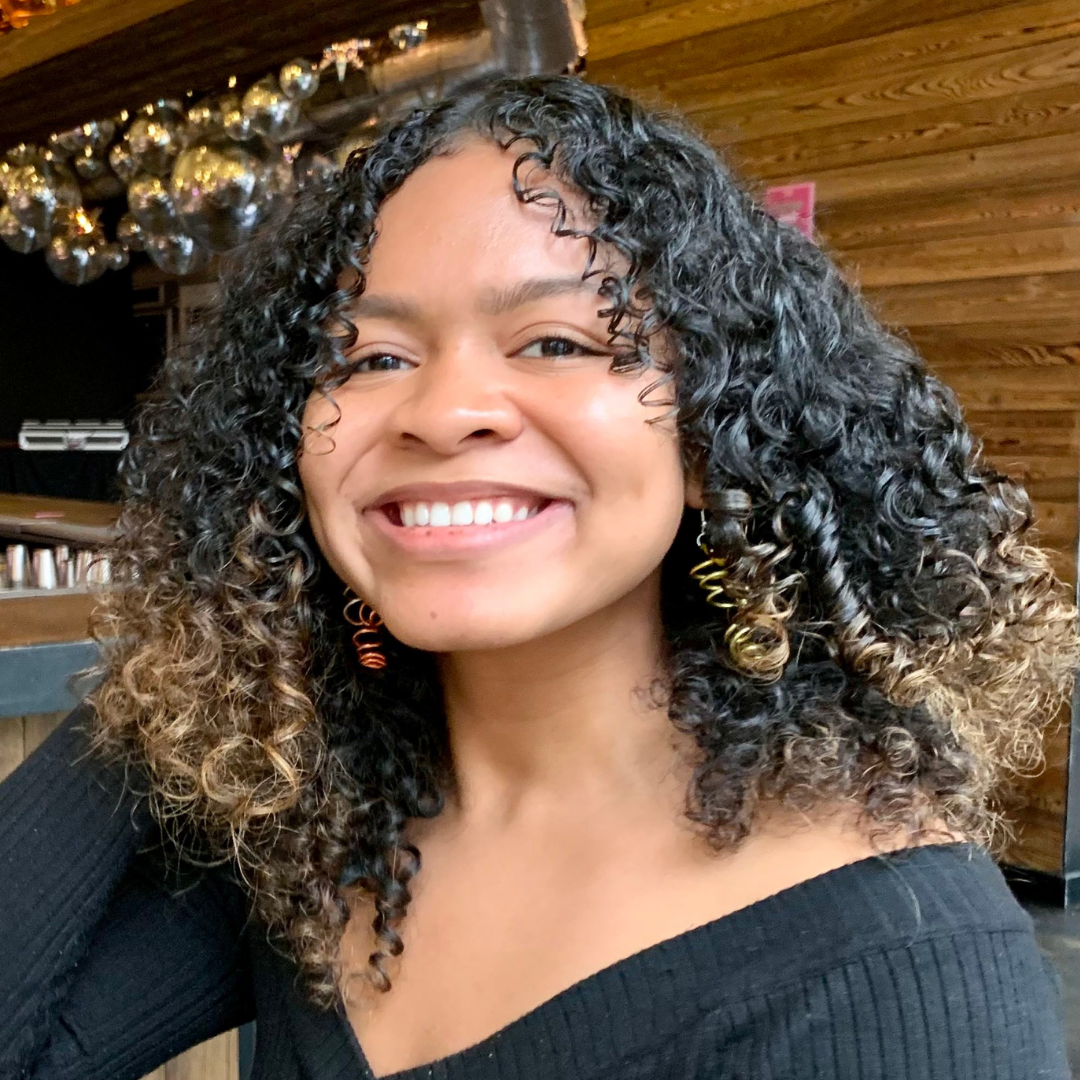 Marissa Moss
|
PhD Student, History
|
University of Illinois Chicago
Marissa Moss (she/hers) is a third-year PhD student in the Department of History at the University of Illinois at Chicago. She entered the PhD program in Fall 2019, and she is completing a concentration in Black Studies. Her interests are African American women's history, the Great Migration, policing, and reform movements during the Progressive era. Marissa's current research project focuses on Sue Redmond, an African American woman who testified against politicians and policemen who were tried for corruption in Chicago in 1917.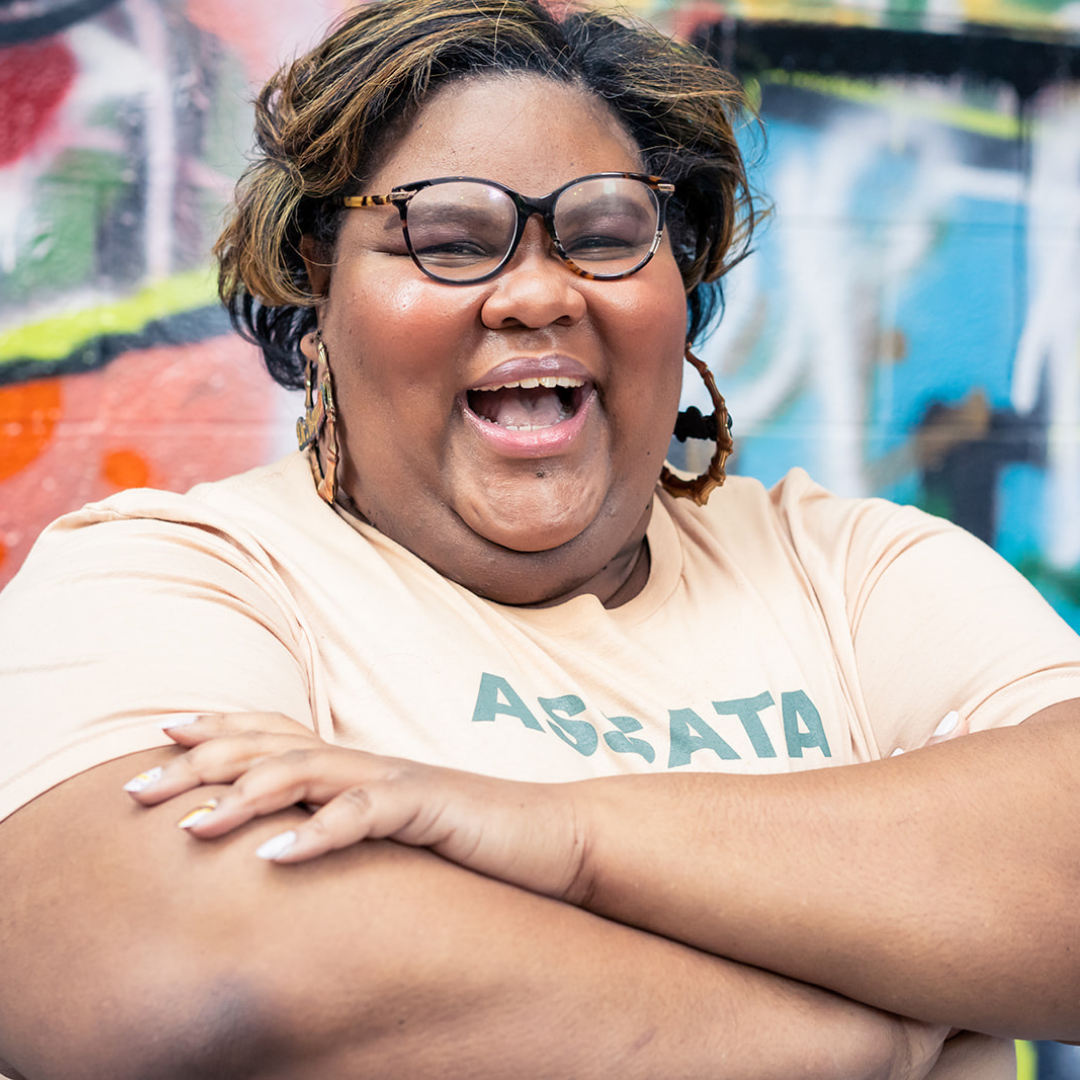 Dr. Aja Reynolds
|
Assistant Professor, Division of Teacher Education
|
Wayne State University
Aja Denise Reynolds is a healer, activist, artist and educator. She is the legacy of Linda and the late Ralph Reynolds, a testament of her family's survival and resistance in the US. In the many roles she is positioned in, she is led by a Black feminist spirit of care, collectivism and courage to confront systems of oppression. Her gifts possess the power to bring people together, and bring light into dark places through laughter. Currently, she is an Assistant Professor at Wayne State University. Her classroom is an invitation to grapple with critical theories, deep reflection with ourselves and brave dialogue. Aja's research interests are inspired by her on-going relationships with Black girls to engage theories and practices in geography, youth development and social movements. Her collaborative engagement with Black girls focuses on creating 'fugitive' or freedom spaces through the use of art, activism and healing. Aja's dissertation titled "Ain't Nobody Checking for Us: Race, Fugitivity and the Urban Geographies of Black Girlhood" is her most current work that documents this labor of love. Additionally, she is part of national education networks, including the Education for Liberation Network, in which she organizes with teachers, youth and community organizations to develop justice-centered educational sites.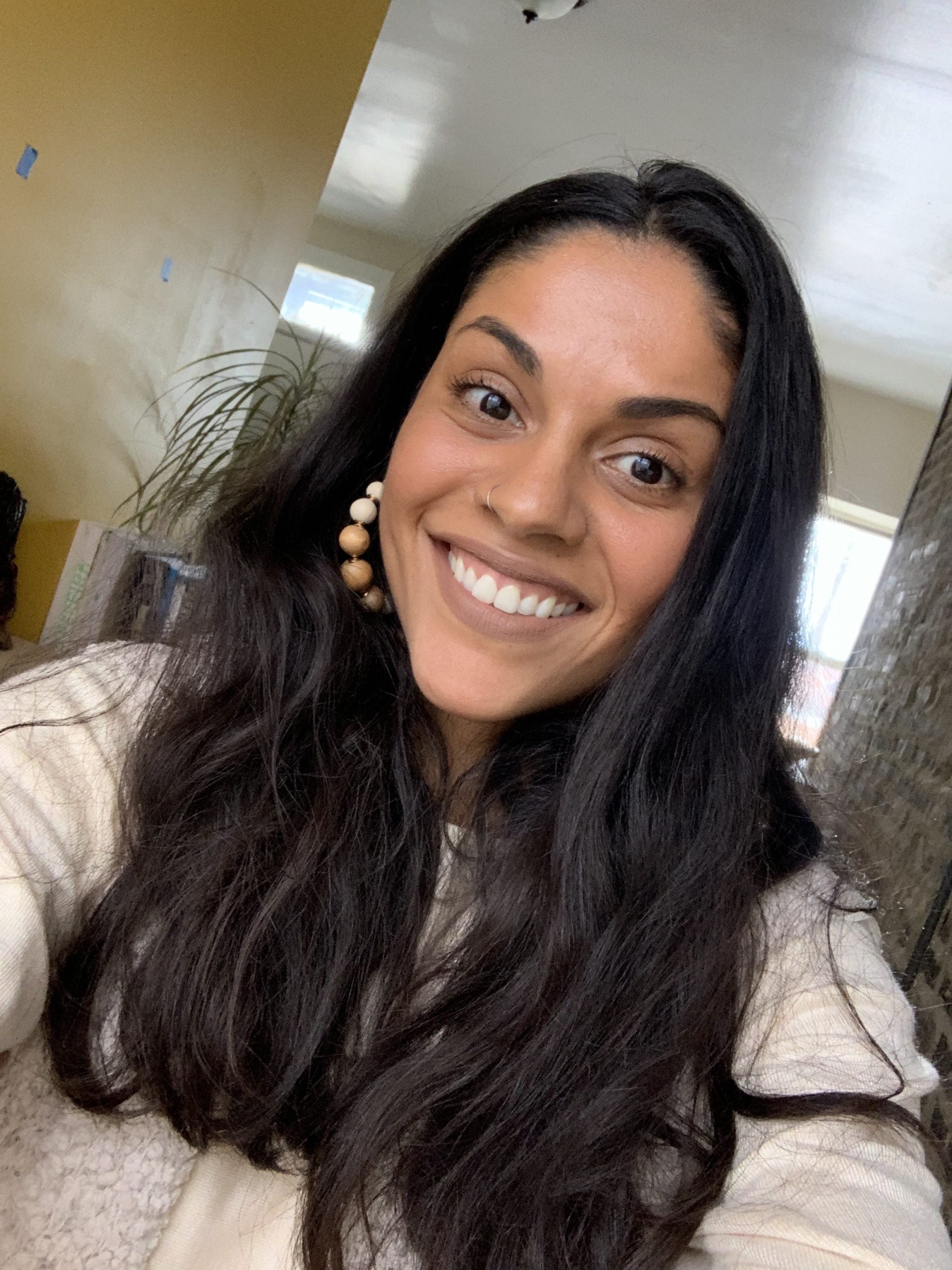 Priscila Pereira (Moderator)
|
PhD Student, Math and Science Education
|
University of Illinois Chicago
Priscila Pereira is a PhD student in Mathematics and Science Education with a concentration in Gender and Women's Studies. She was born and raised in Brazil and graduated from São Paulo State University with a licensure degree in mathematics. Her research interests focus on the educational experiences of Black women in higher education in Brazil and the U.S. More specifically, her doctoral work sheds light on the intersection of race, gender, class and mathematics education as well as Black women's resilience in mathematics spaces in Brazil. Priscila is a graduate assistant at the Women's Leadership Resource Center and is engaged in different academic and community-based projects focused on honoring Black women's lives. She believes in living a holistic lifestyle, is a yoga and meditation practitioner, healthy food enthusiast, and a dog mom.