Nov
1
2018
Black Women's Speculative Fiction and the Deconstruction of Able-Mindedness: Lecture
November 1, 2018
6:00 PM - 8:00 PM
Location
2028 University Hall 601 S. Morgan St.
Address
Chicago, IL 60612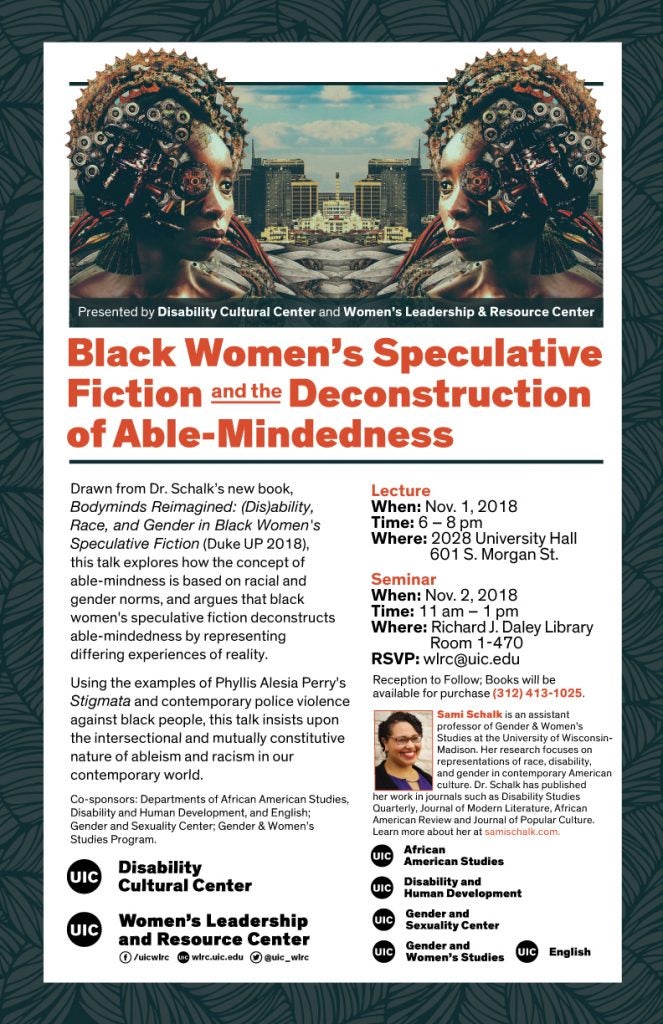 Drawn from Dr. Schalk's new book, Bodyminds Reimagined: (Dis)ability, Race, and Gender in Black Women's Speculative Fiction (Duke UP 2018), this talk explores how the concept of able-mindness is based on racial and gender norms, and argues that black women's speculative fiction deconstructs able-mindedness by representing differing experiences of reality.
Using the examples of Phyllis Alesia Perry's Stigmata and contemporary police violence against black people, this talk insists upon the intersectional and mutually constitutive nature of ableism and racism in our contemporary world. Co-sponsors: Departments of African American Studies, Disability and Human Development, and English; Gender and Sexuality Center; Gender & Women's Studies Program.