Feb
24
2023
Crafting Corner: The Clothesline Project
The Clothesline Project
February 24, 2023
10:00 AM - 12:00 PM
Location
Asian American Resource and Cultural Center
Address
723 W. Maxwell St., Chicago, IL 60607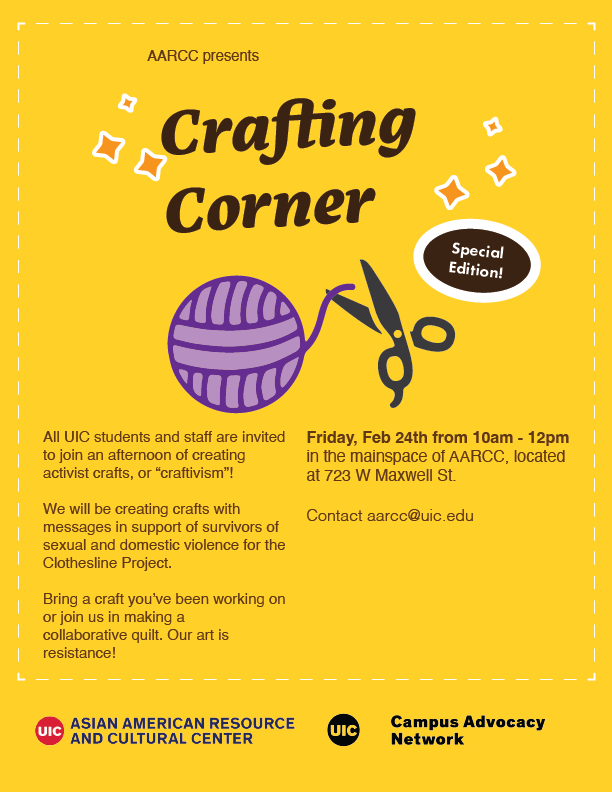 All UIC students and staff are invited to join a morning of creating activist crafts, or "craftivism!"
We will be creating crafts with messages in support of survivors of sexual and domestic violence for the Clothesline Project.
Bring a craft you've been working on or join us in making a collaborative quilt. Our art is resistance!
Co-hosted by WLRC's Campus Advocacy Network and the Asian American Resource and Cultural Center.
. . .
About the Clothesline Project:
Throughout its 30-year history, WLRC programming in April has centered around Sexual Assault Awareness Month and engaged campus and community audiences in important conversations about gender-based violence. Join the Clothesline Project at UIC throughout the Spring 2023 semester at multiple opportunities across campus to provide a space to share messages of resilience, healing, and hope for individuals and communities impacted by interpersonal violence and abuse.
Contact
Campus Advocacy Network
Date updated
Feb 20, 2023