Nov
20
2019
Exploring the Intersections of Race, Class, Gender, and Disability: Implications for Disabled Black Women
November 20, 2019
6:30 PM - 8:00 PM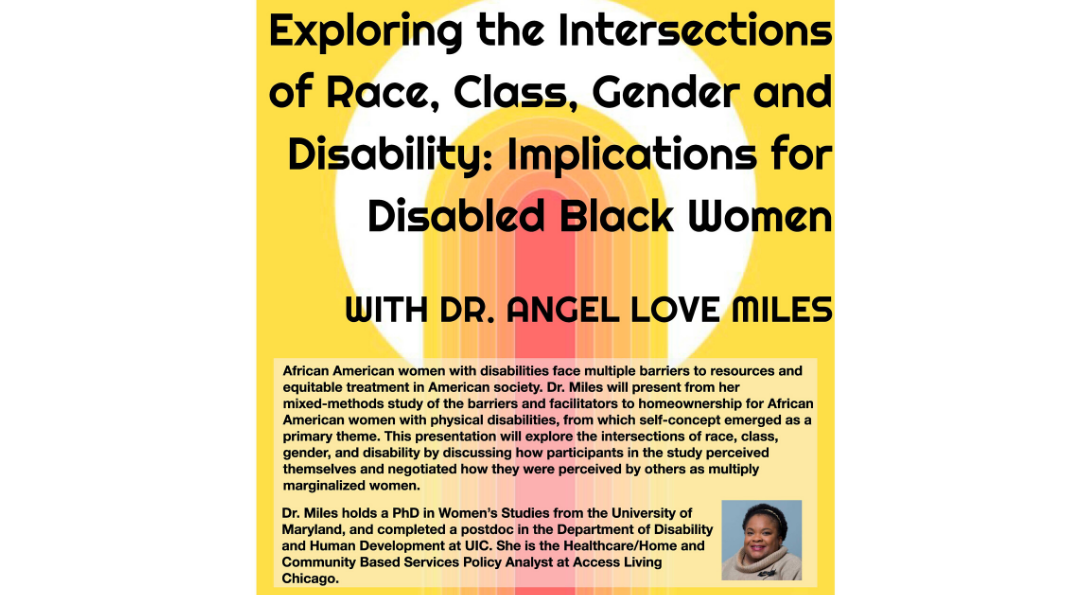 Address
Lower Level, Stevenson Hall, 701 S. Morgan St., Chicago, IL 60607
The UIC Disability Cultural Center, African American Cultural Center, and Women's Leadership and Resource Center present
"Exploring the Intersections of Race, Class, Gender, and Disability: Implications for Disabled Black Women" with Dr. Angel Love Miles.
African American women with disabilities face multiple barriers to resources and equitable treatment in American society. Dr. Miles will present from her mixed-methods study of the barriers and facilitators to homeownership for African American women with physical disabilities, from which self-concept emerged as a primary theme. This presentation will explore the intersections of race, class, gender, and disability by discussing how participants in the study perceived themselves and negotiated how they were perceived by others as multiply marginalized women.
Dr. Miles holds a PhD in Women's Studies from the University of Maryland, and completed a postdoc in the Department of Disability and Human Development at UIC. She is the Healthcare/Home and Community Based Services Policy Analyst at Access Living Chicago.
--
The UIC Institute for the Humanities is accessible by elevator, and ASL and CART will be provided. UIC is not a fragrance free campus. In order for us to maintain a low fragrance environment, please refrain from wearing fragrance to this event. For any other access info or access requests, contact dcc@uic.edu or (312) 355-7050.
RSVP
Contact
Disability Cultural Center
Date updated
Oct 31, 2019