Mar
15
2023
Sovereignty Is in the Body: Indigeneity and Reproductive Justice
Women's History Month
March 15, 2023
2:00 PM - 4:00 PM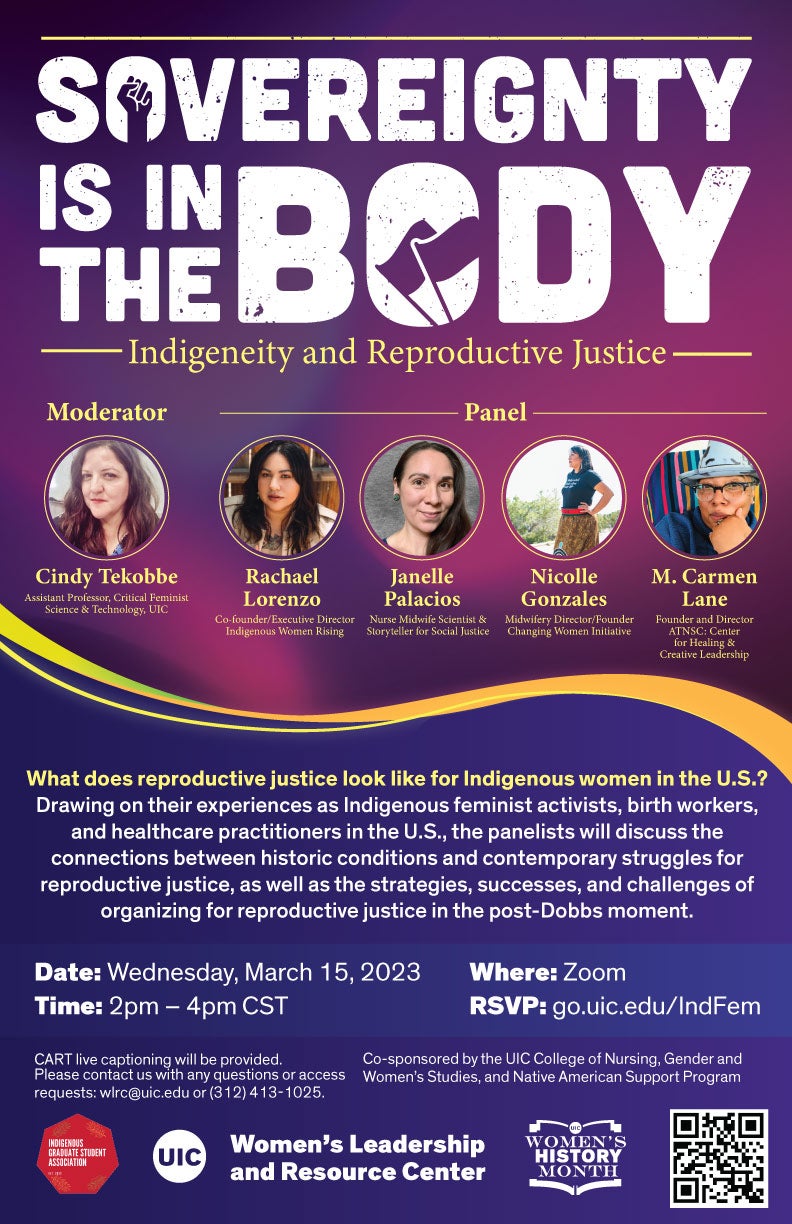 What does reproductive justice look like for Indigenous women in the U.S.? Drawing on their experiences as Indigenous feminist activists, birth workers, and healthcare practitioners in the U.S., the panelists will discuss the connections between historic conditions and contemporary struggles for reproductive justice, as well as the strategies, successes, and challenges of organizing for reproductive justice in the post-Dobbs moment.
Speakers:
Nicolle Gonzales, Midwifery Director/Founder of Changing Women Initiative
M. Carmen Lane, Founder and Director, ATNSC: Center for Healing & Creative Leadership
Rachael Lorenzo, Co-founder/Executive Director, Indigenous Women Rising
Janelle Palacios, PhD, CNM, Nurse Midwife Scientist & Storyteller for Social Justice
Moderator: Cindy Tekobbe, Assistant Professor, Critical Feminist Science & Technology, UIC
Presented by the UIC Women's Leadership and Resource Center and Indigenous Graduate Student Association in celebration of Women's History Month.
Co-sponsored by UIC Native American Support Program, Gender and Women's Studies, and College of Nursing.
CART live captioning will be provided. Please send any questions or access requests to wlrc@uic.edu.
Register
Speakers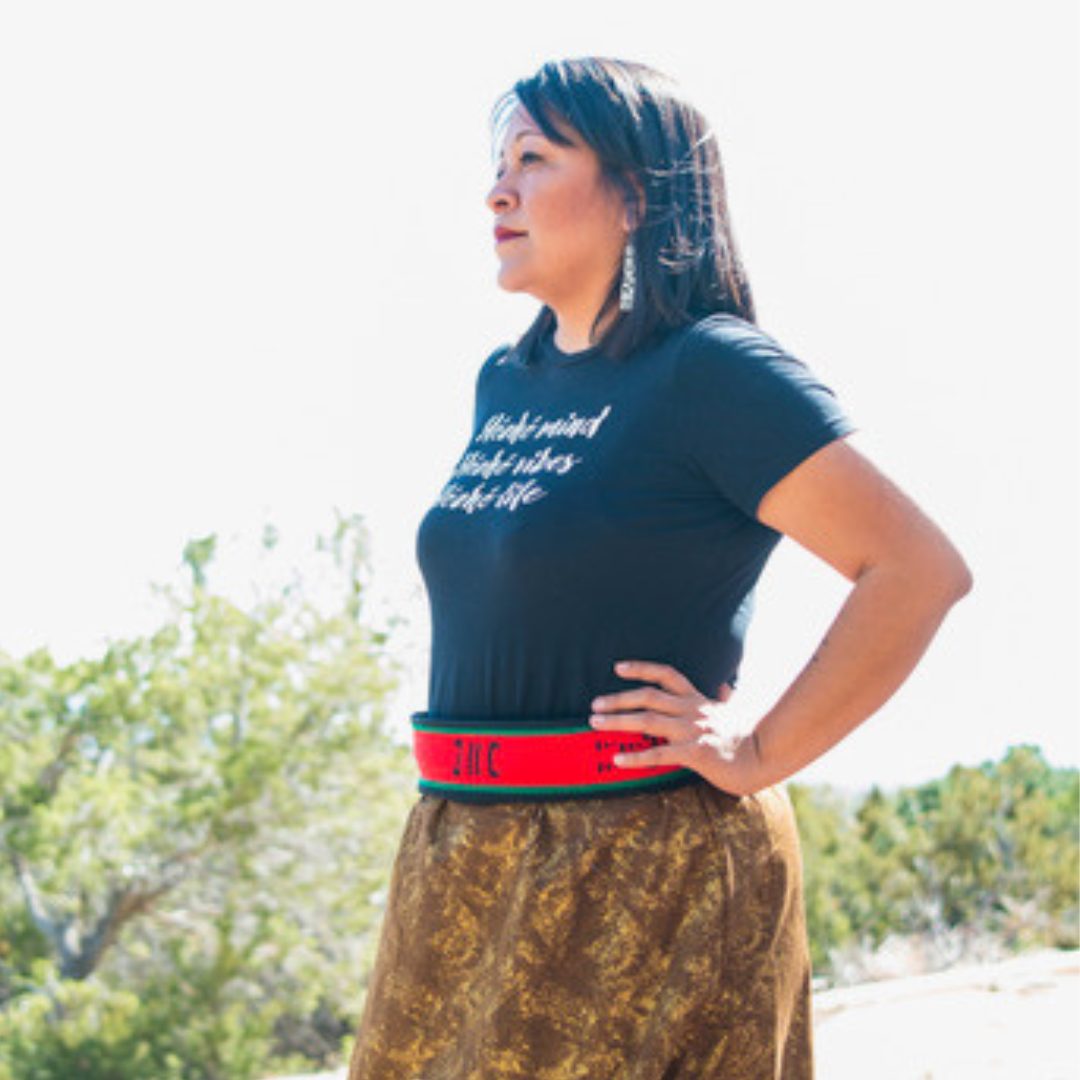 Nicolle Gonzales
|
Midwifery Director/Founder
|
Changing Women Initiative
Nicolle Gonzales is a Dine' Nurse-Midwife from the Navajo Nation, she grew up in the Four Corners of New Mexico and now lives in the Albuquerque, NM. Nicolle, received her Bachelor's of Nursing from the University of New Mexico and returned to get her Master's degree in Nurse-Midwifery after working as an OB nurse for 17 years. She is an indigenous feminist, published author, inspirational speaker, marathon runner, and healer on the path. She has dedicated her life to addressing Native American maternal health disparities around access to care while reclaiming indigenous birthing practices and supporting the return of indigenous midwives to communities. She is the Founder and Midwifery Director of Changing Woman Initiative, a Native American-led women's health collective dedicated to renewing cultural birth knowledge to empower and reclaim sovereignty of indigenous women's medicine, while creating the countries first Native American birthing center. Inspiration for the work that Nicolle is currently doing has come from serving on two non-profit birth center organization boards as Board Chair and Vice Chair. She has presented at midwifery conferences over the years on Indigenous midwifery, Native American Women's Health, and the importance for birth ceremony. She is currently a contributing writer to the on-line magazine Indigenous Goddess Gang. Nicole's writing and advocacy has elevated the need for healthy policy changes in rural tribal communities around access to culturally congruent birth and well woman services.
M. Carmen Lane
|
Founder and Director
|
ATNSC: Center for Healing & Creative Leadership
M. Carmen Lane is a two:spirit African-American and Haudenosaunee (Mohawk/Tuscarora) artist, writer and facilitator living in Cleveland, Ohio. Lane is founder and director of ATNSC: Center for Healing & Creative Leadership atnsc.org, an urban retreat center and social practice experiment in holistic health, leadership development, Indigenous arts and culture and the Akhsótha Gallery located in the historic Buckeye-Shaker neighborhood. Lane's work has been published in numerous journals and anthologies including the Yellow Medicine Review, Red Ink Magazine, Anomaly, and the Lambda Literary Award-nominated Sovereign Erotics: A Collection of Two Spirit Literatures. Lane has also exhibited work in group shows such as FRONT 2018 triennial group show by Michael Rakowitz. Lane was a 2018 Creative Fusion artist-in-residence and recipient of the 2019 Room In The House artist residency at the historic Karamu theatre. Lane attended Earlham College and received a Bachelors of Arts in Women's Studies with a focus in feminist art history, theory & criticism. The earned a Master of Science in Organization Development & Change from American University. Lane was a recipient of both the AU/NTL Segal-Seashore Fellowship and Hal Kellner Award. Lane is an Amanda Fouther scholar/member of NTL Institute for Applied Behavioral Science and Wordcraft Circle of Native Writers and Storytellers.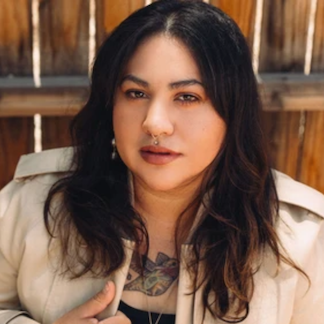 Rachael Lorenzo
|
Co-founder/Executive Director
|
Indigenous Women Rising
Rachael Lorenzo (Mescalero Apache/Laguna Pueblo/Xicana) is a queer, nonbinary parent of two and lives in Albuquerque, New Mexico. They were born in Las Cruces, New Mexico to young parents and were raised on their father's ancestral land in Laguna, New Mexico. Rachael graduated with a BA in Political Science and a Masters in Public Administration, focusing on Public Health; both degrees are from the University of New Mexico. Rachael studied political campaigns, participated in policy analyses, and has been consulted for their expertise in public health policies that could impact Indigenous communities. Currently, Rachael funds abortion through the Indigenous-led reproductive justice organization, Indigenous Women Rising which she co-founded and where she serves as Executive Director. She serves as Assistant Commissioner of Cultural Resources at the New Mexico State Land Office.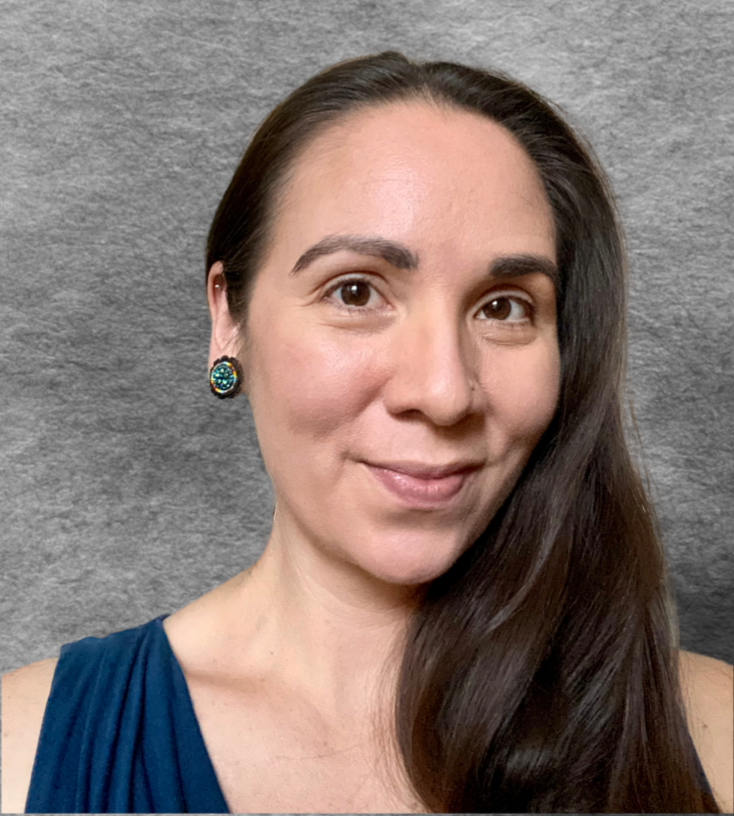 Janelle Palacios, PhD, CNM
|
Nurse Midwife Scientist & Storyteller for Social Justice
Janelle Palacios PhD, CNM (Salish/Kootenai; She/Her) is a nurse midwife, researcher, lecturer and storyteller originally from the Flathead Indian Reservation located in Montana. Dr. Palacios has been a Midwife in Northern California for more than a decade, as well as an Attending, teaching OB/GYN residents while also mentoring residents on large data based studies to support vaginal birth. Dr. Palacios's expertise in Indigenous maternal health has been recognized both regionally and nationally. She is a committee member on the Advisory Committee on Infant & Maternal Mortality, under Health Resources and Services Administration. In addition she has served as American Indian/Alaska Native content population expercontent expert and designed curriculum around storytelling and anti-racist practicies with the CDC's "Hear Her" campaign about fetal, infant and maternal mortality, and the Association of Maternal and Child Health. More recently, she has been working on integrating storytelling into The StoryWork Project, an innovative health equity tool that integrates history and storytelling to spark actions for change to better maternal/child/infant outcomes among BIPOC populations. Dr. Palacios is also the founder of Encoded 4 Story, a story-based consulting firm helping individuals and organizations link the importance of history and story to address and improve maternal/child health outcomes grounded in family and community engagement.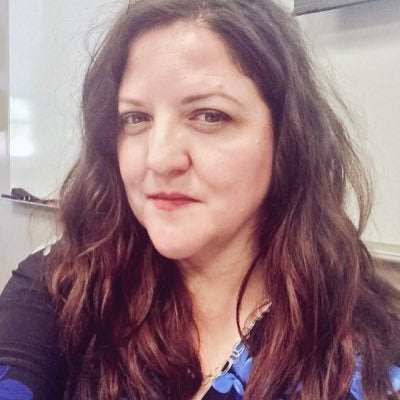 Cindy Tekobbe, PhD
|
Assistant Professor, Critical Feminist Science & Technology
|
University of Illinois Chicago
Cindy Tekobbe is Assistant Professor of Critical Feminist Science & Technology at the University of Illinois Chicago. She is dual appointed in Gender and Women's Studies and Communication. Her work investigates the digital lives, identities, and activism practices of traditionally underserved and erased peoples and communities. She is a citizen of Choctaw Nation of Oklahoma.