Apr
21
2022
Our Bodies Are Not an Apology
Feminist Page-turners; Sexual Assault Awareness Month
April 21, 2022
2:30 PM - 3:30 PM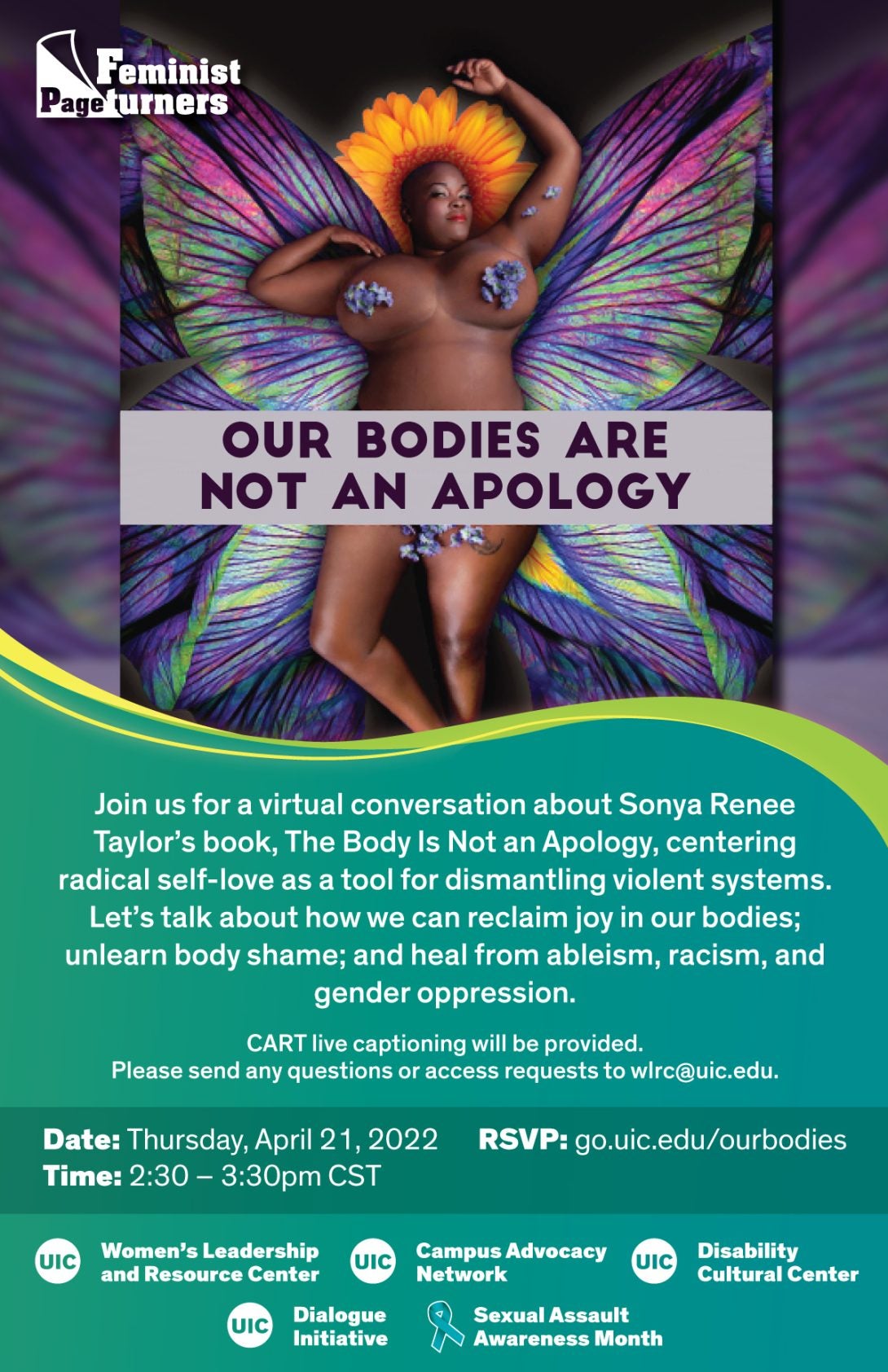 Join WLRC's Campus Advocacy Network, UIC Disability Cultural Center, and UIC Dialogue Initiative for a conversation about Sonya Renee Taylor's book, The Body Is Not An Apology, centering radical self-love as a tool for dismantling violent systems. We will talk about ways that we can reclaim joy in our bodies; unlearn body shame; and heal from ableism, racism, and gender oppression. We invite you to spend an hour with us celebrating how we can construct a more equitable and compassionate world.
CART live captioning will be provided. Please send any questions or access requests to wlrc@uic.edu.
How to get the book:
We encourage you to read the book before our meeting, but you are welcome to attend no matter how much or little you have read. The discussion will offer opportunities to engage around quotes and questions that are open to all.
UIC students can pick up hard copies of the book at the Office of the Dean of Students (1200 W. Harrison St., 3030 SSB). Electronic copies are also available from the UIC Library: full book and workbook. If you need help accessing the text, please email wlrc@uic.edu.
About the book:
Humans are a varied and divergent bunch with all manner of beliefs, morals, and bodies. Systems of oppression thrive off our inability to make peace with difference and injure the relationship we have with our own bodies.
The Body Is Not an Apology offers radical self-love as the balm to heal the wounds inflicted by these violent systems. World-renowned activist and poet Sonya Renee Taylor invites us to reconnect with the radical origins of our minds and bodies and celebrate our collective, enduring strength. As we awaken to our own indoctrinated body shame, we feel inspired to awaken others and to interrupt the systems that perpetuate body shame and oppression against all bodies. When we act from this truth on a global scale, we usher in the transformative opportunity of radical self-love, which is the opportunity for a more just, equitable, and compassionate world--for us all.
"To build a world that works for everyone, we must first make the radical decision to love every facet of ourselves… The Body Is Not an Apology is the mantra we should all embrace."
- Kimberlé Crenshaw, legal scholar and founder and Executive Director, African American Policy Forum
"Taylor invites us to break up with shame, to deepen our literacy, and to liberate our practice of celebrating every body and never apologizing for this body that is mine and takes care of me so well."
- Alicia Garza, co-creator of the Black Lives Matter Global Network and Strategy + Partnerships Director, National Domestic Workers Alliance
Register