Winter Hours & Support Resources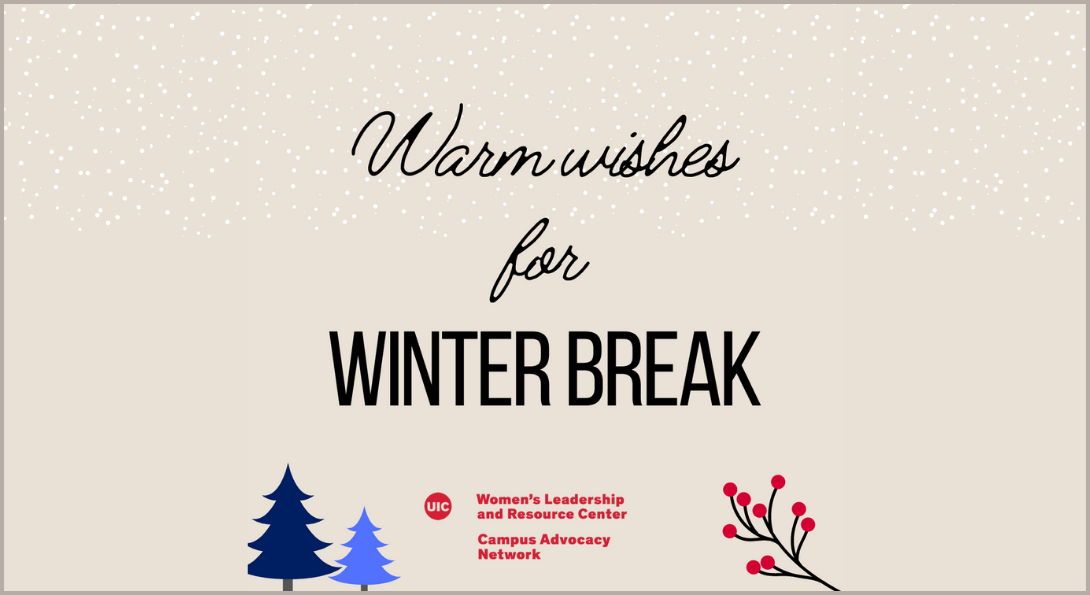 The UIC Women's Leadership and Resource Center and Campus Advocacy Network will be closed Monday, December 20 to Friday, January 7 and will re-open on Monday, January 10, 2022.
Finding Support during Winter Break
While we are on break, you can contact a 24-hour hotline anytime to speak with an advocate over the phone, text message, or online chat. We encourage you to bookmark their websites or save their phone numbers in case of an emergency:
The Network - Advocating Against Domestic Violence
Chat online
Call 877-863-6338 (877-TO END DV)
National Domestic Violence Hotline
Chat online
Text START to 88788
Call 1-800-799-SAFE (7233)
TTY 1-800-787-3224
Chicago Rape Crisis Hotline
Chat online
Call or text 1-888-293-2080
National Sexual Assault Hotline
Chat online
Call 800-656-HOPE (4673)
Download the RAINN mobile app
If it feels hard, that's because it is hard. Please ask for help--you deserve it!
From the staff and students of WLRC, we wish you a restful and joy-filled holiday season that is spent with loved ones and in service of love, community, and justice.
Modified on December 17, 2021