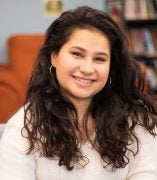 Tiffany Hamling
Student Assistant
Pronouns: She/her/hers
About
Tiffany Hamling is an undergraduate Student Assistant at the Women's Leadership and Resource Center.
Tiffany is in her fourth year as an undergraduate student at the University of Illinois at Chicago. She is
majoring in Gender and Women's studies on the pre-medicine track. Before coming to UIC, she
attended Rosary High School in Aurora, IL. Tiffany is currently a dedicated member of several
student organizations on campus, including Society of Future Physicians, American Women's Medical
Association, and PERIOD. The Menstrual Movement. She also volunteers at UI Health.
Tiffany's interests include reproductive rights, women's health, and domestic abuse. She plans to pursue a
career in women's health or fetal medicine in the future.